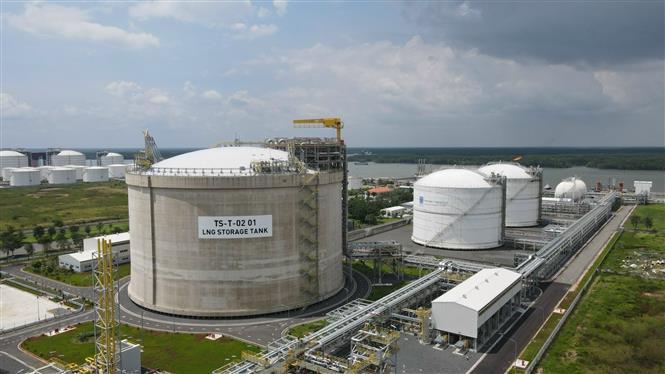 The 1 million-tonne Thi Vai liquefied natural gas (LNG) terminal project, the biggest of its kind in Vietnam, was officially put into operation in the southern province of Ba Ria – Vung Tau on October 29.
The project was invested by the Petrovietnam Gas Joint Stock Corporation (PV GAS), a subsidiary company of the Vietnam Oil and Gas Group (Petrovietnam), in coordination with the joint venture of Samsung C&T Corporation and the Petrovietnam Technical Services Corporation (PTSC).
The country's biggest and most modern LNG terminal includes a terminal capable of handling vessels with deadweight tonnage (DWT) of up to 100,000, a storage tank of 180,000 cu.m., a gas pipeline, and a complex operating centre, among others.
In the first phase, it has a storage capacity of 1 million tonnes of LNG per year, which will be raised to 3 million tonnes in the second phase. Its LNG deliquefaction capacity stands at 171 tonnes per hour.
From this complex, LNG will be distributed to customers via pipelines or by tankers/satellite warehouses.
Addressing the inauguration ceremony, Deputy Prime Minister Tran Luu Quang said that over the past years, Vietnam has been working hard to develop modern and efficient energy infrastructure. It views natural gas and gas products as among clean, safe, effective, and convenient energy sources.
With many gas infrastructure facilities and such major complexes as Ca Mau and Phu My gas – power – fertiliser complexes already operational and Block B – O Mon gas project to be completed soon, Petrovietnam and PV GAS will continue making substantial contributions to local budget revenue, job creation, and economic restructuring, he went on.
He considered the opening of the Thi Vai LNG terminal as an important facility helping carry out the Party and Government's policy on national energy development and energy transition.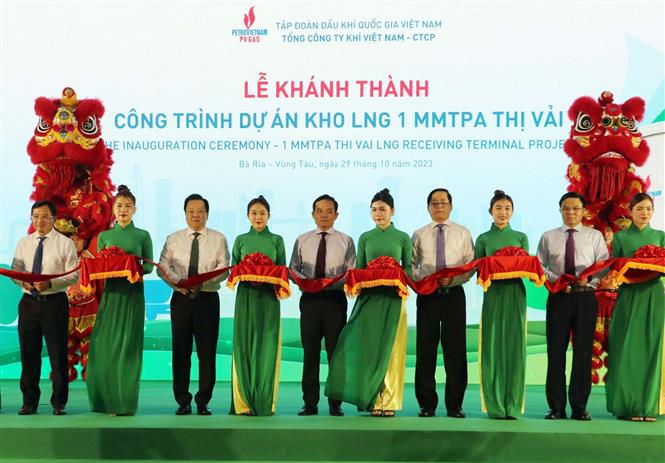 Quang asked Petrovietnam and its subsidiary companies to speed up construction so that LNG projects will be put into operation on schedule to help reach the national targets on LNG development.
The Government will always provide optimal conditions for the group, its members, as well as other investors to develop energy, oil and gas projects, especially those on green, clean and sustainable energy, in conformity with the Party's guidelines and the State's policies and laws, the Deputy PM affirmed.
PV GAS Chairman Nguyen Thanh Binh said the Thi Vai LNG terminal is an important link of the deliquefied LNG supply chain, helping ensure gas supply for existing customers and to-be-built power plants, especially amid falling domestic gas supply and soaring gas demand for power generation. Its operation will also help actualise the Government's commitment to achieve net zero emissions by 2050.
The project's second phase will be implemented soon to increase the storage capacity to 3 million tonnes, he noted.
PV GAS is also building Son My LNG import terminal, based in the south-central province of Binh Thuan, with a designed capacity of 3.6 million tonnes of LNG per year in the first phase and 10 million tonnes in the second phase, Binh noted, adding that his firm's LNG infrastructure will basically meet the energy demand in the southeastern and south-central regions in the future.
The corporation is also pressing on with expanding the LNG infrastructure and transportation system in the LNG hub model to supply deliquefied LNG for satellite gas-fired thermal power centres in the southeastern, south-central, and northern/north-central regions.
On July 10, tanker Maran Gas Achilles delivering the first LNG batch to Vietnam arrived at the Thi Vai LNG terminal./.
(VNA)