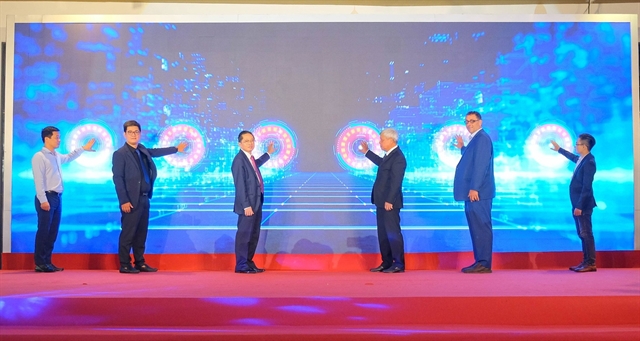 CT Group launched its ASEAN Carbon Credit Exchange Joint Stock Company (CCTPA) on September 29, becoming the first Vietnamese enterprise to kick off a voluntary carbon emissions exchange in an attempt to respond to trade policies on international environment, and to develop a low-carbon emission economy.
All 27 EU member states are expected to begin piloting their Carbon Border Adjustment Mechanism (CBAM) from October 2023, with the aim of ensuing a level playing field for European businesses by imposing a carbon border tax on imports from countries that do not apply equivalent carbon pricing measures.
The US will also levy the carbon tariff in 2024, and more major markets in American and Asia are expected to follow suit.
As a major exporter to the EU and the US, Vietnamese enterprises should work to ensure that their products meet green standards, as well as improve their competitive edge in long term.
In this context, development of a carbon market is seen as an effective tool that helps reduce environmental damage towards sustainable development in line with the world trend.
According to Hoang Bach Duong, Vice Chairwoman of CT Group, building a carbon market and green finance market is an inevitable trend to improve businesses' competitive capacity since meeting all requirements of carbon barriers that large markets are imposing will play a decisive role for the race in the global supply chain.
The launch of the CCTPA will encourage enterprises to shift to cleaner technologies which help reduce carbon emissions so as to achieve Vietnam's net-zero emissions goal by 2050, she said, adding the company will invest to study the application of blockchain for carbon market to ensure the transparency in carbon credit management, allocation, transfer and calculation.
The CCTPA will be the first company in Vietnam that provides full consultancy for enterprises, organisations, and individuals in the development of carbon credit projects, carbon offset and credit mechanisms, and application of carbon tax in the region and the world.
Experts said establishment of a carbon exchange is a bold step for Vietnam to achieve its net-zero emissions target by 2050.
Director of the Department of Climate Change under the Ministry of Natural Resources and Environment Tang The Cuong said carbon market is a key for Vietnam to realise its ambitious goal of net-zero emissions by 2050.
The carbon market will make contributions to reducing green-house gas emissions at low costs, he added.
At the launching ceremony, a cooperation deal was signed between the CCTPA with the Association for Safe Water and Environmental Sanitation, the Institute for Research on Development Communication, scientific research organisations and international financial agencies with a view to creating breakthrough measures for green transition.
CT Group, a leading multi-industry economic group in Vietnam, has carried out 12 programmes to support the country's response to climate change. It has conducted various scientific research projects that helps cut millions of tonnes of carbon dioxide.
According to the Government's Decree 06/2022/ND-CP on the roadmap for the domestic carbon market development, until 2027, Vietnam will implement a number of activities such as developing regulations for carbon credit management, exchanging greenhouse gas emission quotas and carbon credits, building regulations for operating the carbon credit exchange, and piloting the carbon credit exchange and offset mechanism in potential areas and guiding the implementation of the domestic and international carbon credit exchange and offset mechanism in accordance with the provisions of law international treaty to which Vietnam is a member.
At the same time, Vietnam will pilot a carbon credit exchange from 2025, and implement capacity building activities and raise public awareness of carbon market development./.
(VNA)