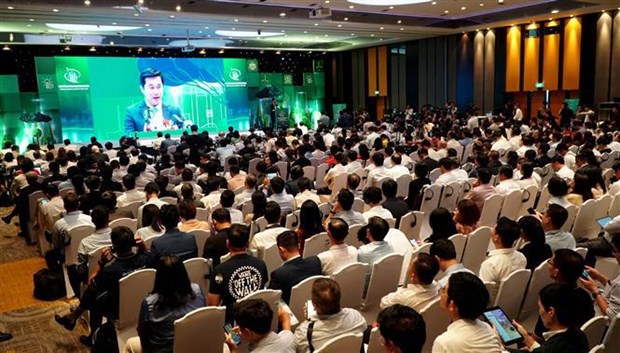 The Ministry of Construction in coordination with Vietnam Institute for Building Materials (VIBM) organised a seminar on the new trend of using green, energy-saving and eco-friendly materials on September 28.
This is part of the Vietnam Green Building Week 2023 which attracted many leading experts and delegates in the industry, focusing on developing green and eco-friendly materials in the construction sector.
According to Le Trung Thanh, VIBM's director, Vietnam is promoting the development of green, energy-saving and eco-friendly materials.
More than 300 green buildings have so far been built in the country and about 70 new ones will be added in 2023 alone. However, he said that the development of this type of building still faces many difficulties.
To have green and environmentally-friendly materials, investment and effort in technology research and development is a must, Thanh said, adding that a suitable process is needed to evaluate these materials to make sure they meet the requirements. Thus, there should be close cooperation between universities, research institutes and businesses to ensure continuous development in green materials and green technology fields.
Meanwhile, Hoang Thanh Vinh from United Nations Development Programme Vietnam said that as Vietnam is moving towards a circular and sustainable economy, using green and environmentally-friendly materials helps reduce negative impacts on the environment, creates business opportunities, and promotes sustainable development.
Solutions for dealing with plastic waste and eliminating toxic substances in construction are among them, he went on.
At the seminar, Viglacera Corporation JSC, Vietnam's leading supplier of building materials, introduced sintered stone, a product with environmentally- friendly advantages. For investors, this is a highly aesthetic product that optimises costs for maintenance while bringing safety and fire resistance to consumers./.
(VNA)