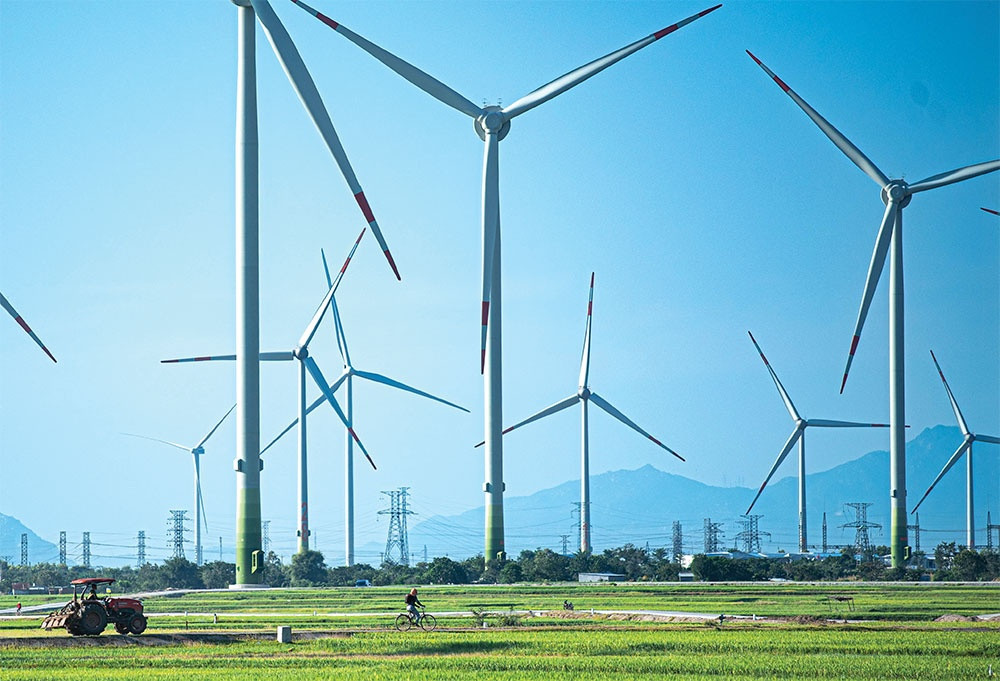 The newly approved Power Development Plan VIII for 2021-2030, with a vision to 2050, is designed to improve the country's energy security and set out a roadmap for developing energy sources towards a green path.
However, realising the targets will be a profound challenge for all involved.
Prime Minister Pham Minh Chinh has approved the long-delayed Power Development Plan VIII (PDP8), which will guide national energy policy for the rest of this decade and beyond.
The plan awaits formal authorisation from the National Assembly, which is expected to meet from May 22. The first PDP8 submission was made in March 2021 and more than 10 draft versions were published.
"We've all been waiting for PDP8 approval for several years now, so this is excellent news," said John Rockhold, chairman of the American Chamber of Commerce in Vietnam (AmCham). "I appreciate that the government has taken enough time to research and refer to a realistic PDP8. This is in line with the government's concerted efforts to accelerate the green energy transition towards its commitments to achieve net-zero carbon emissions by 2050."
Meanwhile, Bui Vinh Thang, country manager in Vietnam at the Global Wind Energy Council, told VIR, "With this approval, the Vietnamese government and the industry can move to the implementation phase to turn the ambitious targets of energy transition and net-zero commitment into reality. We applaud the target of 28 GW of wind energy by 2030, including 22 GW of onshore and 6 GW of offshore".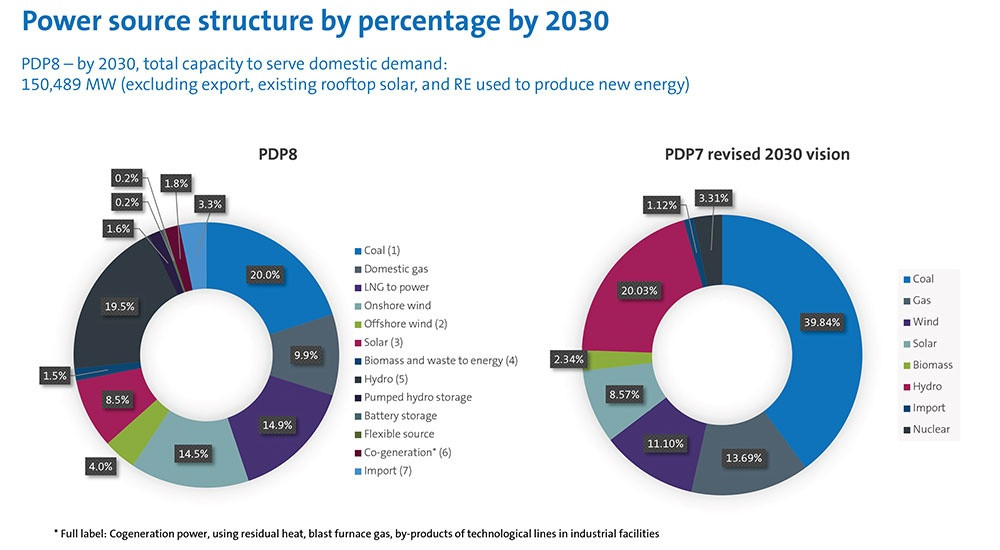 Setting out a roadmap
The PDP8 aims to ensure energy security through to 2030, with a vision towards 2050. The comprehensive plan encompasses key aspects, including power grid interconnections with neighbouring countries.
Under the plan, by 2030, it is expected that the share of renewable energy sources – which include hydropower, solar, wind, and biomass – in total energy capacity would have increased by about double.
The plan also seeks to reduce dependence on coal-fired thermal energy, thus aligning with global trends towards sustainable energy. Coal power, which is currently a significant component in Vietnam's energy mix, is also set to decline from approximately 30 to 20 per cent by 2030, while the contribution of natural gas will nearly double. Looking ahead to 2050, coal power sources will be almost completely phased out.
Looking to 2050, renewable energy sources will grow dramatically, making up 70 per cent of total power capacity and producing 80 per cent of all electricity (see chart).
In which, by 2030, onshore and offshore wind power for domestic use will be roughly 21,880MW and 6,000MW, or 4 and 14.5 per cent of the nation's total power generation capacity, respectively. By 2050, the amount is projected to rise to 70,000-91,500MW for offshore power, or 14-16 per cent of the total.
Meanwhile, liquefied natural gas (LNG) is going to contribute 14.9 per cent to total power generation capacity by 2030.
Gas power capacity will reach 40.3 GW by 2035, but as mixed gas and hydrogen power grow more common, the gas share will fall to 7 per cent by 2050, according to the plan.
AES Vietnam president Joseph Uddo said, "This is a great step in Vietnam's energy transition. The focus on LNG and renewable energy makes a lot of sense. This formalises the continued support that AES has received on our Son My CCGT project and the Son My LNG terminal project. It's clear these projects are of national importance."
Stuart Livesey, CEO of Copenhagen Offshore Partners Vietnam, also responded positively to the PDP8 approval.
The company is currently participating in development of the 3.5-GW La Gan offshore wind project off the south-central coast of Binh Thuan, in addition to a further 4 GW in the south and 6 GW in the north of early-stage development projects across multiple provinces.
Livesey now has more confidence in goals for offshore wind in Vietnam, and now anticipates further developments. "The approval has strengthened the potential of the Vietnamese market. We are confident that if the government can establish a clear implementation plan with transparent investor selection and power purchase agreements that adhere to international standards, then 6 GW of offshore wind can be delivered efficiently by 2030," Livesey said.
The PDP8 stresses the significance of building a solid smart grid infrastructure capable of successfully integrating and operating large-scale renewable energy sources. Vietnam's emphasis on smart grid infrastructure underlines its commitment to dependable and effective renewable energy.
During 2021-2030, there will be new construction of 49,350 megavolt amperes (MVA) and renovation of 38,168MVA of 500kV substations, as well as building 12,300km of new 500kV transmission lines and renovating 1,320km.
Additionally, the PDP8 emphasises the necessity of reducing greenhouse gas emissions linked to the production of electricity, with the goal of reaching a peak emission level of no more than 170 million tonnes by 2030.
What's next?
The estimated investment capital for power source and transmission grid development is approximately $134.7 billion for 2021-2030, and $399-523 billion for 2031-2050.
Another challenge for the implementation of the PDP8 is time. There are less than seven years left for Vietnam to double its total power capacity compared to today, along with a huge amount of investment in the grid. Ambitious green energy transition goals require very specific mechanisms to attract huge capital, and the most modern technologies both at home and abroad.
According to Tomaso Andreatta, chairman of the Green Growth Sector Committee at the European Chamber of Commerce in Vietnam, the approval of the PDP8 is an important step in completing the government's formal framework to reform the energy system to meet upcoming needs.
"However, the real work starts now in defining the legal tools for implementing the plans, unifying the authorisation processes through a single gate, and financing an extremely ambitious investment plan that surpasses national capabilities," he said. "We must also change the decision processes of all parties involved by considering lifecycle economics and not just initial investment, and adapting to new technologies that may be more cumbersome today but allow for the only real progress towards decarbonisation."
Andreatta explained carbon subtraction and new carbon credits alone cannot rebalance the carbon emissions of natural gas, LNG, and coal. A strong base load of renewable energy and, as soon as feasible, green hydrogen accompanied by storage can be given even more room.
"The necessary reforms to succeed include various aspects such as strengthening local banks, opening up to international investment in infrastructure, improving Vietnam's credit stance, and strengthening Electricity of Vietnam by bringing energy prices to cover the full cost and investment necessary to completely revamp the grid, with the support of private companies," he added.
Rochhold from AmCham added that, in order to attract investment in the power sector, there is still a lot of work to be done to develop and implement the PDP8. "It is even more necessary in light of the energy crisis and summer conditions. Due to the current heat, the risk of electricity shortage increases, so Vietnam needs to invest in the electricity industry, promote and develop these projects soon," he said.
At a press conference on May 18, a representative of the MoIT confirmed that they are urgently performing tasks assigned by the government as a legal basis for the implementation of PDP8. The MoIT is assigned the task of improving mechanisms and policies, such as completing the revised Law on Electricity and building a direct PPA mechanism.
Details for Power Development Plan VIII:

-Total energy capacity will rise from the current 76GW to over 158GW by 2030.

-Coal capacity will rise to about 30GW from the current 24GW. This is almost 20 per cent of the energy mix, down from the current 30 per cent.

-Currently at 7GW of capacity, thermal gas will rise to almost 15GW of domestic gas and 22GW of imported liquefied natural gas by 2030.

-Solar and wind will see huge growth, with substantial offshore wind in place and an emphasis on rooftop solar.

-Regulations are also included for a direct power purchase agreement, which major groups have been calling for.
(Source: VIR)