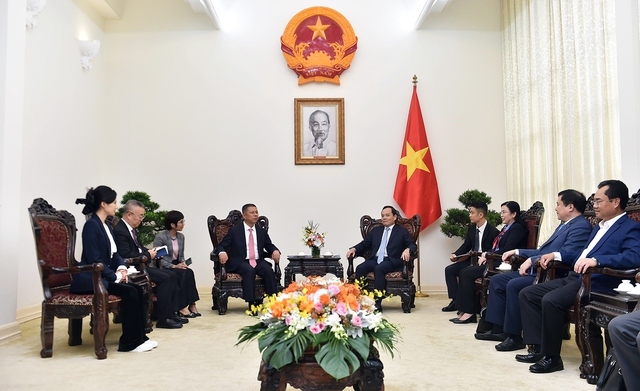 Trina Solar, a world energy leader of China that provides Photovoltaic module and smart energy solutions, has decided to inject an additional US$420 million into its ongoing projects in the northern province of Thai Nguyen.
Jifan Gao, chairman and general manager of Trina Solar, made the announcement at a reception hosted by Deputy Prime Minister Tran Luu Quang in Hanoi on November 5.
Jifan said Trina Solar has invested in two projects at Yen Binh Industrial Park in Thai Nguyen with a total registered investment capital of US$478 million. To implement its third phase, the Chinese group has proposed an additional US$420 million in Thai Nguyen. This is considered the group's largest investment abroad in the photovoltaic field.
Trina Solar hopes to receive further attention and support from Vietnamese authorities to promote its research and investment in rooftop solar power projects locally, he said.
Deputy Prime Minister Tran luu Quang welcomed the group's expansion plan, noting renewable energy development is a common trend in the world, including Vietnam, aiming to achieve the goal of net zero gas emissions by 2050.
He said Vietnam is building and promulgating specific mechanisms and policies to spur the development of renewable energy, including solar energy.
The Deputy Prime Minister requested that the group help Vietnamese businesses to engage in the global supply chain in general as well as its supply chain in particular;
He also suggested that Trina Solar lower product costs, improve the performance of solar energy storage devices, and introduce solutions to treat environmental pollution for storage devices at the end of their useful life.
(VOV)