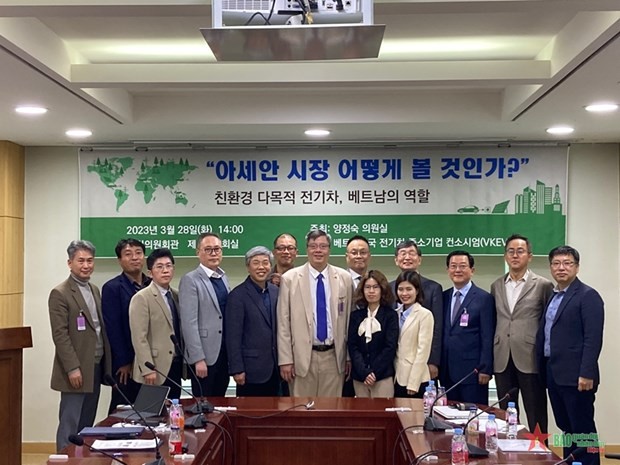 Jointly organised by the Vietnam-Korea Businessmen and Investment Association (VKBIA), the Vietnam – Korea Alliance for Green Mobility (VKERC), the Office of the RoK National Assembly, the event saw the participation of representatives from six RoK government's agencies, businesses, organisations, research institutes and universities which are involved in the green industry and smart mobility.
Addressing the event, Dr. Tran Hai Linh, member of the Vietnam Fatherland Front (VFF) Central Committee and Chairman of VKBIA, spotlighted cooperation potential between agencies, businesses, universities, research institutes of Vietnam and the RoK in green and supporting industries, and opportunities to boost green industries in Vietnam.
He also briefed participants on Korean businesses' investment in Vietnam in recent years.
Kim Jong-bae, President of VKERC stressed that the transition to green and smart means of transport in developing countries in Asia, including ASEAN, will not only contribute to achieving the national goal of reducing greenhouse gas emission, but also promote green industry development, creating great opportunities for socio-economic growth.
However, he underlined the need to strengthen cooperation among countries to address obstacles and barriers facing the transition to low-carbon means of transport in Asia, such as technological reliability and high initial cost.
According to Yang Jung-suk from the RoK's National Policy Committee, his country will support the green industry to make inroads into the international market through setting up a green industry alliance, linking green ODA sources.
On the occasion, VKBIA, VKERC, and Honam University of the RoK signed a cooperation agreement on implementing programmes to promote technology exchange and transfer, support in expertise and vocational training and employment, investment promotion, development of green industry and smart transport; and cooperation in these fields between Vietnam, the RoK and other ASEAN countries.
(VNA)