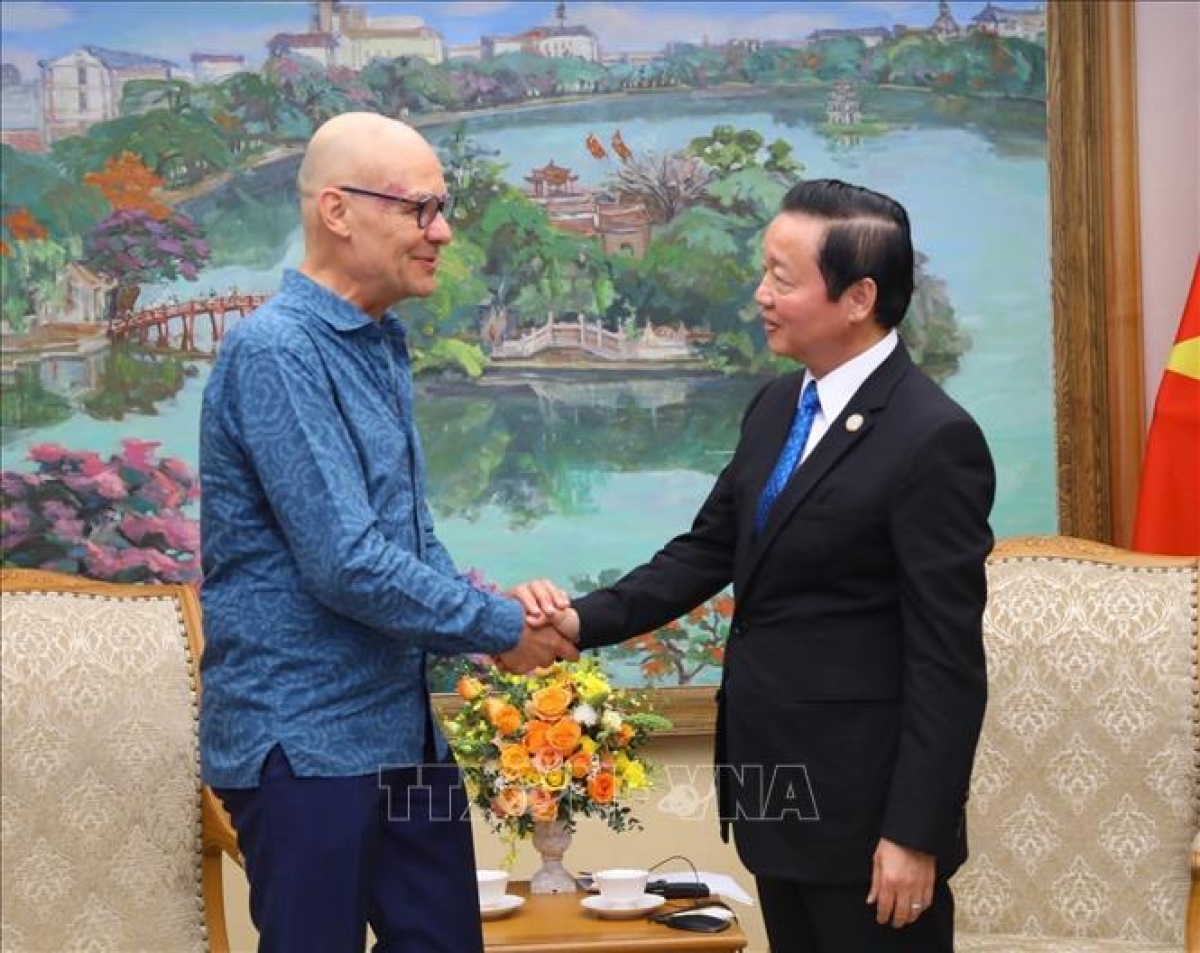 Deputy Prime Minister Tran Hong Ha hosted a reception on May 31 in Hanoi for Dutch Ambassador in Vietnam Kees van Baar, during which the former hailed the latter's positive contribution to the joint comprehensive partnership.
The two sides represents strategic partners in the fields of climate change adaptation, water management, sustainable agriculture, and food security.
With the support of Dutch partners, the Vietnamese Government has issued a decision on the Master Plan for the Mekong Delta in the 2021 to 2030 period, with a vision towards 2050. The plan has approached advanced methods in responding to climate change, managing water resources sustainably, along with forming a regional co-ordination and development mechanism, the Deputy PM told his guest.
Expressing a strong desire to expand the scope of collaboration on the basis of trust and efficiency, Deputy PM Ha said that the space for renewable energy development, such as solar power and wind power, has been expanded many times in the National Power Development Plan in the 2021 to 2030 period, with a vision ahead to 2050.
The Deputy PM therefore welcomed Dutch partners and businesses as they seek to become more involved in pilot programme aimed at installing rooftop solar power, adding that with the experience and technology of offshore wind power development Dutch enterprises have helped the Vietnamese Government to complete investor selection criteria. This includes mechanisms for research and technology transfer, assessing economic efficiency, and ensuring national security and safety.
He suggested that Dutch partners and businesses study investment options in renewable energy projects, synchronously with forming large industrial parks in the Mekong Delta and promoting the role of the state in leading, supporting, and accompanying businesses in specific projects to achieve the set goals.
In response, the Dutch diplomat said businesses from the Netherlands are highly interested in renewable energy development orientation in National Power Development Plan VIII, with a strong desire to facilitate the implementation of a number of pilot projects on rooftop solar power and offshore wind power.
The Netherlands therefore stands ready to provide technical support and offer advice on policy development, governance, technology transfer, and mobilising green financial resources for the nation's fair energy transition roadmap, he added.
The same day saw Deputy Prime Minister Tran Hong Ha receive US Ambassador to Vietnam Marc E. Knapper.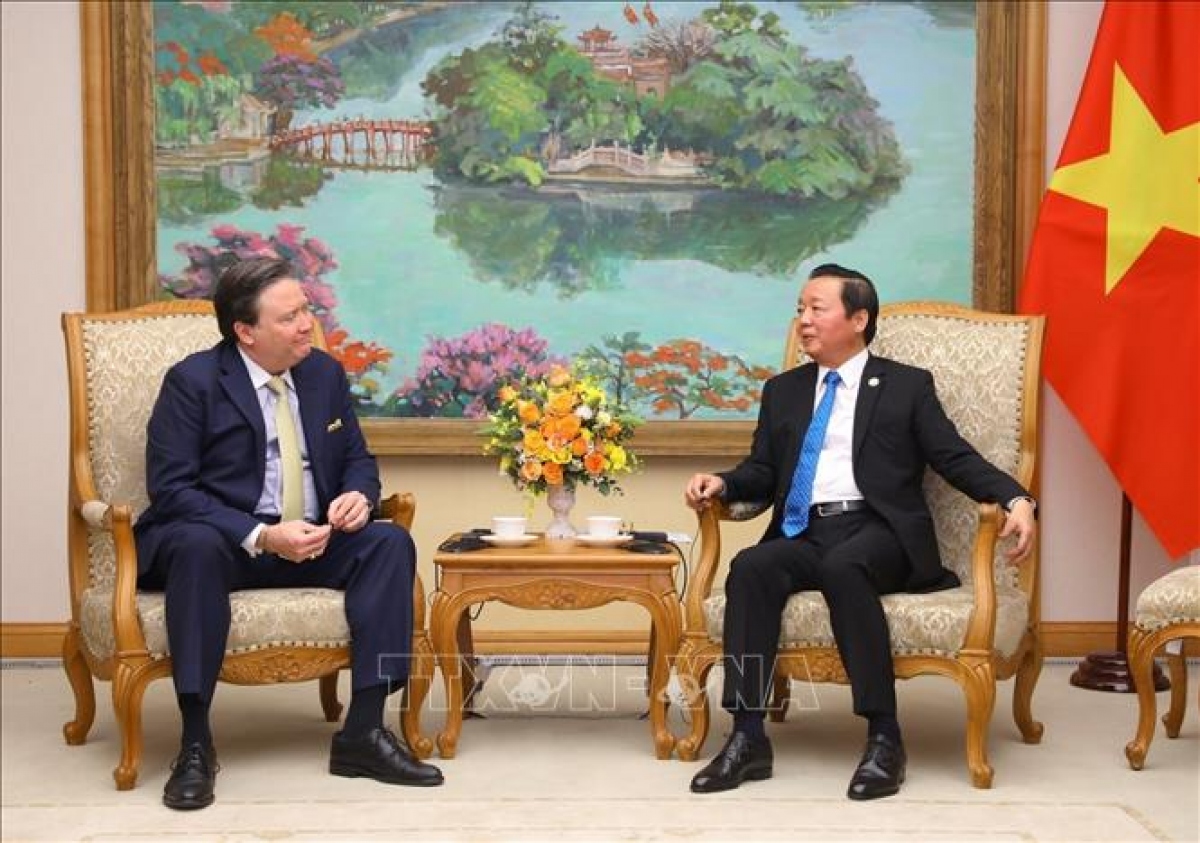 During the course of the meeting, Deputy PM Ha said that the co-operative ties between Vietnam and the United States are being increasingly close with approaching integrated solutions aimed at responding to climate change, overcoming the consequences of air pollution and Agent Orange (dioxin), carrying out the co-operation agreement on fair energy transition partnership (JETP), and reducing net zero greenhouse gas emission.
The Deputy PM stated that the promulgation of thte National Power Development Plan VIII, with a very large space for renewable energy indicates the nation's stance of "acting together" in implementing the JETP and achieving net zero, with confidence in its support commitment of JETP partners in terms of technology, governance, financial resources for renewable energy, and a carbon market formation.
"Countries that are ahead in comprehensive response to climate change will demonstrate their values, position and role in global challenges," Deputy PM Ha went on.
He affirmed that global issues represent an important co-operation foundation between both sides, thereby promoting substantive and close-knit ties that bring value to the two peoples, whilst also contributing to solving global problems.
Agreeing with the Deputy PM's opinion, Ambassador Knapper said that the US will continue to support the Vietnamese side in implementing JETP and reaching net zero through sharing, technology transfer, financial resources, and technical management for renewable energy projects with the participation of US businesses.
US partner organisations continue to accelerate projects to overcome the consequences of dioxin poisoning, clear mines, and support people with disabilities, the US diplomat told his host.
Deputy PM Ha and Ambassador Knapper discussed and agreed on solutions aimed at promoting the nation's highly-qualified human resources with the support of US facilities and equipment to ramp up linkages in scientific and technological research, including new materials, vaccines, and core technologies. This is along with digital transformation, such as artificial intelligence and big data; education; innovation; health care; and demonstrating strategic vision, common goals, and trust in co-operative relations between the two countries.
(VOV)