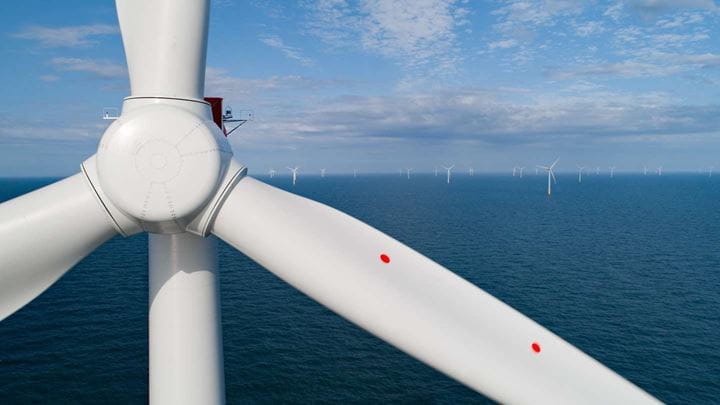 Vietnam is one of the fastest-growing economies in Asia, with GDP growth forecast at around 6.7% per year over the next few years, and strong economic expansion projected over the next decade. On the flip side, this growth has also been accompanied by a corresponding increase in CO2 emissions as the country continues down its development pathway.
With Vietnam's pledge to achieve net-zero carbon emissions by 2050 and the global energy transition, Vietnam's power sector is on the cusp of significant change. Key developments have occurred in recent months, including adoption of the $15.5 billion Just Energy Transition Partnership (JETP) with the International Partners Group (IPG) in December 2022, and the issuance of the National Power Development Plan for the period of 2021-2030, with a vision to 2050 (PDP8) in May 2023.
In this article, we will provide some key highlights and takeaways from PDP8, look at this in light of the JETP, and discuss some of the key issues that remain to be resolved to achieve the ambitious goals of PDP8.
Key highlights and takeaways from PDP8
PDP8 is largely a strategic document, setting out key aspects and milestones for the development of Vietnam's power sector. The implementation plan is scheduled to be presented to the Prime Minister in June 2023.
Some of the key highlights and takeaways from PDP8 are:
Electricity demand to grow as economic growth continues
PDP8 projects that Vietnam's electricity demand will continue growing in line with strong GDP growth, reaching 567 billion kWh by 2030 (and about 1,300 billion kWh by 2045). To meet this demand, the country's total installed capacity will increase to about 150,000 MW in 2030 (and around 500,000 GW in 2050).
Transition to greener energy
Coal power, which currently accounts for 34% of electricity generation in Vietnam, will peak by 2030, and be reduced to zero by 2050. Renewables will increase their share of electricity generation, from 25% in 2020 to a baseline of 31% in 2030 and 68% in 2050.
Of renewable sources, the growth of utility scale solar is expected to be limited in the short term given the already rapid expansion in the past few years. In contrast, priority will be given to self-consumed rooftop solar, onshore wind (in the medium term) and offshore wind (in the longer term).
Gas as transition fuel
PDP8 provided governmental investment approvals for a range of new projects, emphasising the usage of domestic gas instead of LNG. This will be the immediate focus of energy developers and the government, as energy supply ramps up to provide baseload capacity as a substitute for coal fired power from 9 GW in 2020 to the 37.33 GW expected in 2030. In the longer term, these gas plants should be converted to hydrogen once the technology is commercialised and costs are reduced.
Building the grid
PDP8 sets out a focus on developing the grid to support increased usage, future development and reliability of power supply. This includes expansion so as to unlock utilisation of offshore wind resources, and connection with grids in neighbouring countries to facilitate the import / export of energy.
Focus on developed technology
While PDP8 does make mention of newer technologies including hydrogen, carbon capture and usage of battery storage systems, these are couched more as areas which may be potentially explored and/or utilised by 2050 at a suitable price, with few concrete targets.
Implementation requires capital
The estimated investment needed by 2030 to achieve the 2030 targets is about $135 billion, with about 89% of this geared towards development of energy sources. A further $400 billion to $500 billion will be required to achieve the 2050 goals. Foreign capital (including utilisation of the JETP) will be required.
PDP8 and JETP
It is worth considering the proposals in PDP8 against the backdrop of the JETP.
The JETP sets out a headline commitment of $15.5 billion to be mobilised over the next three to five years, with half to be provided by public sector finance, and the other half by the private sector (which would be contingent on other factors, including public sector funding, a pipeline of projects, and policy reform).
The specific terms and requirements for implementation of the JETP are not yet clear. PDP8 targets fall short of some of the targets that have been expressed (see summary table below), unless there is full implementation of the JETP. We look forward to more details of implementation being released in the JETP Resource Mobilisation Plan, targeted to be adopted by November 2023.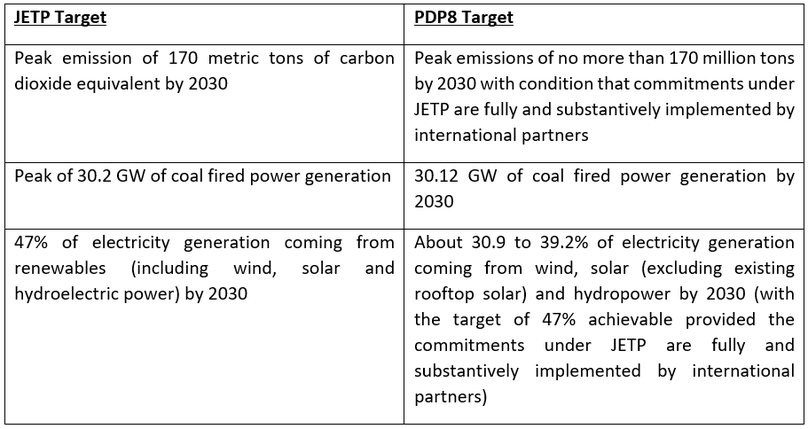 Key issues to be dealt with
PDP8 sets out an ambitious plan that reflects Vietnam's commitment to green growth and low-carbon development. However, there remains a few key concerns which remain to be dealt with.
Support for LNG projects
PDP8 has provided formal government approval for a list of LNG to power projects. This provides regulatory clarity. However, some of these projects still face key commercial issues hindering development (including PPA bankability and the availability of state support), and these will ultimately need to be resolved so that the sector can grow in the short and medium term as envisioned by PDP8.
Tariffs for renewable projects
Development of wind and solar projects has been in stasis for a few years given the uncertainty caused by expiry of the previous feed in tariff regime, and slow negotiations with Vietnam Electricity on revised tariff payment.
PDP8 refers to further improvements to the tariff regime and potential breakthroughs on these. However, details of the revised mechanisms are expected to be made through an amendment of the Electricity Law and a new Law on Renewable Energy. These are expected to be submitted only in 2024, and so full resolutions may only be expected in the coming years.
Regulatory frameworks
Vietnam's power sector remains at a relatively early stage of its development, particularly in relation to the green transition. In addition to those alluded to above, we would also expect other laws and regulations to be put in place over the coming years, including around direct power purchase agreements (in particular for rooftop solar). It remains to be seen whether these will manage to thread the needle between Vietnam's development goals, and being sufficiently attractive to foreign investors.
PDP8 sets a new ambitious direction for Vietnam's electricity sector development, with a strong focus on the green transition. As is perhaps to be expected, further work remains to be done in order to achieve its lofty goals in the various sectors and fulfil Vietnam's development potential, and overcoming these hurdles will require concerted efforts from not only the government, but also international partners and the private sector.
By Freshfields Bruckhaus Deringer Vietnam lawyers
* The International Partners Group (IPG) comprises the EU, UK, the U.S., France, Germany, Italy, Canada, Japan, Norway and Denmark.