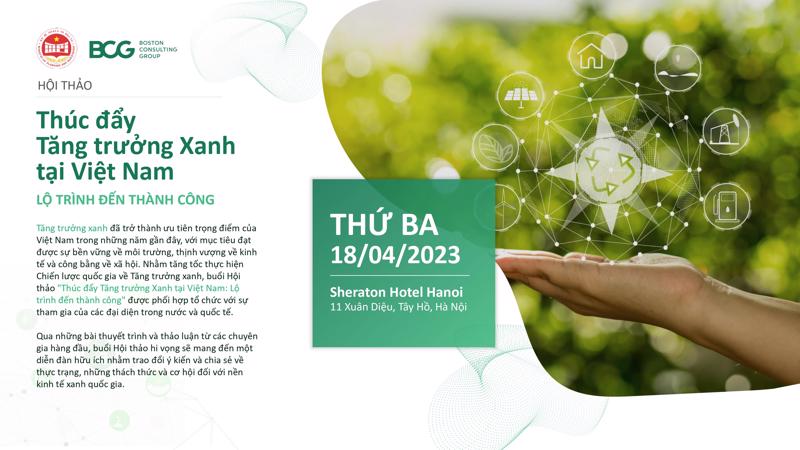 In recent years, green growth and green transition have become key priorities in global economic development, with many countries demonstrating a strong commitment to the goal of a neutral economy. carbon. Vietnam is one of the five countries most severely affected by climate change, which highlights the importance of mitigating climate change impacts and developing a green economy as a priority for the country. nation. Recognizing this, in the past time, Vietnam has made positive progress in promoting its commitment to net zero emissions, focusing on solving climate issues, and creating favorable conditions for climate change. development of a green economy.
Following the commitments of Prime Minister Pham Minh Chinh at the United Nations Climate Change Conference (COP26) in Glasgow, the national green growth strategy for 2021-2030 period, with a vision to 2050 has been approved. with the main goals such as: reducing the intensity of greenhouse gas emissions per GDP, greening economic sectors, sustainable lifestyle and consumption while achieving economic prosperity and social justice. Vietnam's strong commitments were once again reaffirmed at COP27, emphasizing the importance of green development and the role of international cooperation in mobilizing necessary resources and public development. green turmeric.
As part of a major effort to accelerate Vietnam's journey towards green growth, in line with the national orientation on economic restructuring associated with growth model innovation, the Ministry of Planning and Investment (MPI) has partnered with Boston Consulting Group (BCG) to organize an upcoming seminar in Hanoi this April, themed "Promoting Green Growth in Vietnam: A Roadmap to Success". The conference aims to provide a forum for exchanging ideas for breakthrough solutions to accelerate the implementation of the national green growth strategy, not only achieving environmental sustainability, but also prosperous development. economic prosperity and social justice.
The upcoming workshop will be chaired by the Minister of Planning and Investment, Mr. Nguyen Chi Dung. During the workshop, the Minister will also make an announcement on the current progress and important activities undertaken by the Government to promote sustainable development. The event is expected to bring together more than 200 policymakers, industry leaders, investors, academics, and non-governmental organizations (NGOs), all of whom share a common vision. overall in building a more sustainable future for Vietnam.
The workshop will include keynotes, presentations and panel discussions from renowned global thought leaders and decision makers, including Mr. David Sandow (Director of Energy and Environment Concentration at the university). International and Foreign Affairs at Columbia University), who has held senior positions at the White House, and Rebecca Sta Maria, Executive Director of Asia-Pacific Economic Cooperation (APEC). Key topics covered at the workshop included green growth, specifically the latest global trends, green finance and investment strategies, necessary regulations, frameworks and incentives, public and private sector collaboration and adoption of green innovation technology.
Overall, the conference provides a unique opportunity for participants from a variety of fields to share experiences, ideas and knowledge in successfully promoting sustainable development and unlocking growth. green growth in Vietnam. By building an environment of open collaboration and dialogue, the event aims to bring about positive change and build a more sustainable future for Vietnam and beyond.
(VnEconomy)