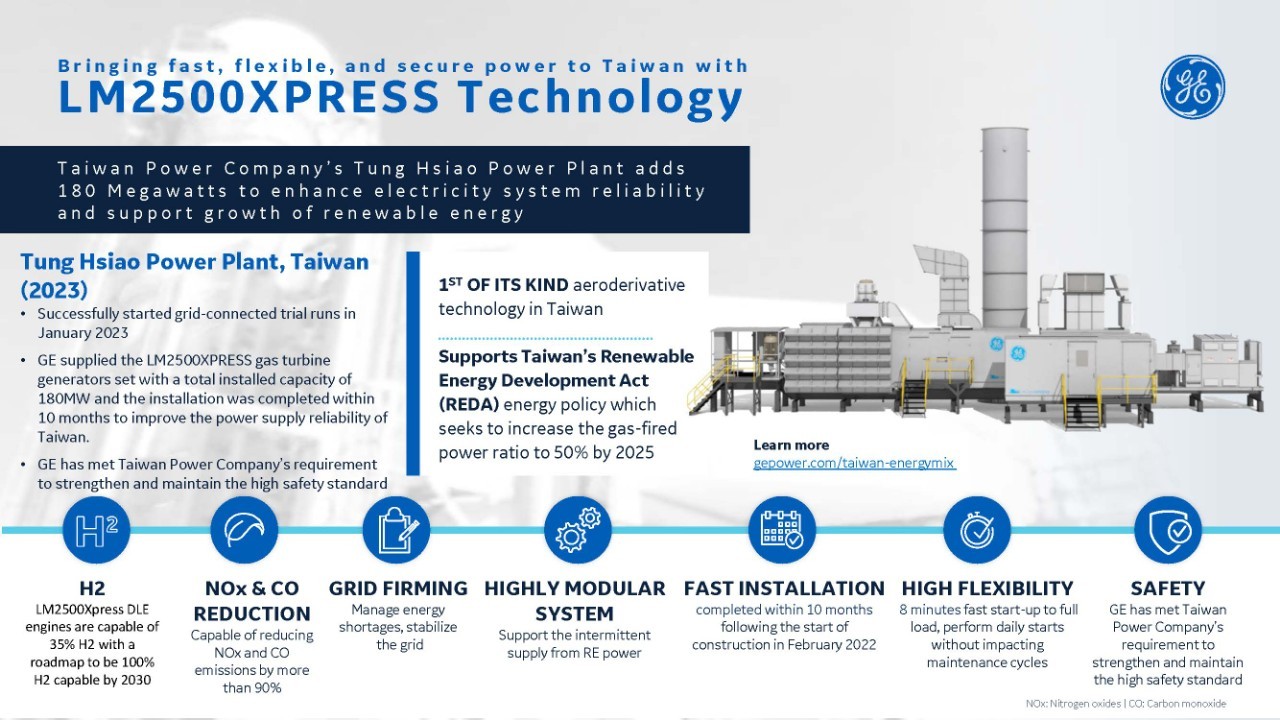 In mid-March 2023, GE announced the successful grid-connected trial runs of six LM2500XPRESS aeroderivative gas turbines for Taiwan Power Company (TPC)'s Tung Hsiao Power Plant. The project was installed within 10 months following the start of construction in February 2022.
These turbines can provide up to 180 megawatts (MW) of electricity, supporting the intermittent supply from nearby offshore wind power plants. With impressive features, such as starting up in less than eight minutes and performing daily starts without impacting the maintenance cycles of the gas supply, the LM2500XPRESS is expected to help stabilize Taiwan's power grid. The flexibility and durability of the LM2500XPRESS also enable the grid to better integrate renewable energy sources, supporting the energy transition and sustainable development that Taiwan is striving for.
Ramesh Singaram, President & CEO of GE Gas Power Asia, said that the project plays a crucial role in supporting the diversification of energy sources in Taiwan. GE not only provides advanced aeroderivative gas turbine technology, but the various supporting and auxiliary components of power plant system required to produce energy.
Tung Hsiao is the first aeroderivative gas turbine installation in Taiwan. In this project, GE's aeroderivative gas turbines run on blends of hydrogen, with a future path towards 100% hydrogen combustion to further support TPC's and other Asian utilities' decarbonization initiatives. The LM2500XPRESS is one of GE's strategic products, serving the goal of expanding cooperation with local energy companies and governments across the Asia-Pacific region. In fact, power generation from natural gas plays a critical role in creating favorable conditions for Asia's transition to a neutral carbonmfuture.
Asia is seen as a dynamic region in promoting renewable energy sources to address the increasing energy demands. For example, in the process of achieving net-zero emissions by 2050, in the draft of the Power Development Plan VIII, Vietnam has stated the need to supplement more flexible power sources to ensure stable operation of the power system with a large proportion of renewable energy sources. This topic is currently attracting the attention of policymakers, businesses, and energy development communities in Vietnam. This was also demonstrated during the recent webinar "Aeroderivative Technology for Vietnam: Staying Competitive with Fast, Flexible, Reliable Power", which had attracted more than 100 participants. At the webinar, GE provided much information on the application of aeroderivative gas turbines to address Vietnam's energy challenges in various areas such as stabilizing the power grid, supplementing renewable energy sources, and other topics.
Currently, roughly 30 per cent of all power generation in Vietnam is powered by GE technologies, with more than 25 gas turbines operating at more than 10 power plants and projects across the country. Along with benefiting from GE's portfolio of advanced aeroderivative gas turbines, rapidly developing economies like Vietnam and many other Asian countries also receive commitments to accompany and support from GE in consulting market structure, development strategies, and sustainable energy transition.
PV