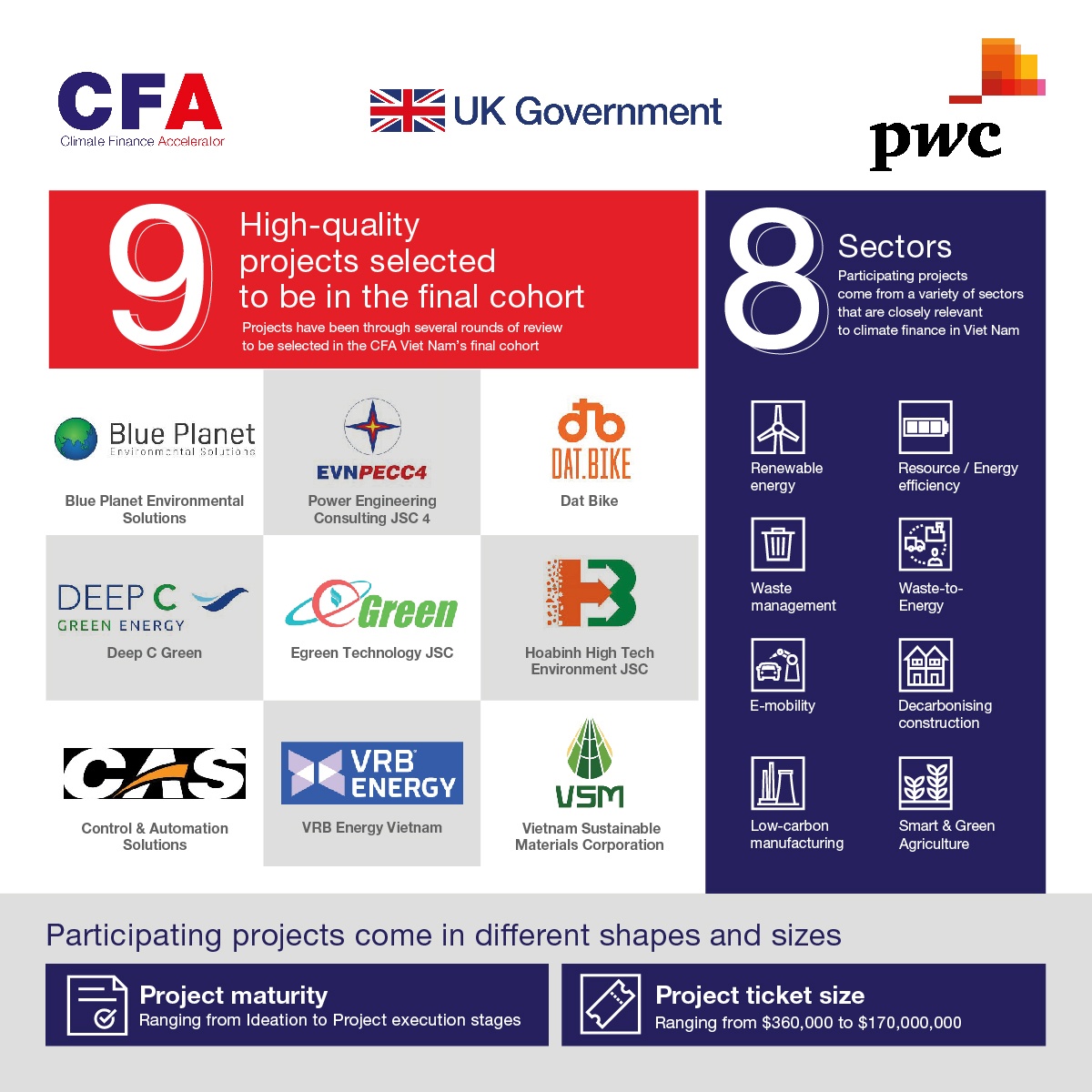 To improve project readiness and provide opportunities to attract investment from Vietnamese and international investors, the schemes will receive tailored one-to-one and group support. This will include advice on technical aspects, financial models, materials, and advice on enhancing gender equality and social inclusion.
The CFA is part of the UK government's efforts to help Vietnam meet the commitments made by Prime Minister Pham Minh Chinh at COP26 in Glasgow two years ago, and offer support to implement the Vietnam Just Energy Transition Partnership (V-JETP) that was agreed upon in December last year.
"The exciting and innovative projects selected to be part of CFA Vietnam underline the significant potential of the Vietnamese private sector to help tackle the climate crisis," British Ambassador to Vietnam, Iain Frew, said. "The expertise shared with these projects will help move them closer to finding investment, leading to reductions in carbon emissions for communities across the country."
Following capacity-building and mentoring sessions, the project leaders will meet with investors and financial institutions at a workshop in May. This will allow developers to further refine their financial structuring through personalised discussions with interested financial institutions. The event will also provide an opportunity for participants to network, and for policymakers to understand the challenges faced by other stakeholders in the climate finance space.
"It's been a great honour for us to be the in-country delivery partner for the CFA," said Dinh Thi Quynh Van, CEO, PwC Vietnam. "This initiative closely aligns with PwC's commitment to environmental, social, and governance (ESG) business practices and agendas. We hope that the capacity building support from this programme will help the selected projects attract funding and contribute towards supporting the implementation of Vietnam's climate ambitions."
The first CFA Vietnam projects are:
Blue Planet Environmental Solutions is a producer of biogas from rice straws using a dry-digestion system. The production of biogas can create energy and a high-grade digestate that can be utilised as a fertiliser.
Control & Automation Solutions is a tech company providing automation solutions in the energy and agriculture sectors. CAS has two smart agriculture projects participating in the CFA scheme. Their circular rooftop farming project focuses on developing and implementing advanced solutions for farming on rooftops, urban houses, and building spaces to promote productive green areas in big urban centres. Meanwhile, their circular agrisolar farms seek to implement high-tech greenhouses using solar and biowaste renewable energy in rural areas.
Dat Bike is Vietnam's first domestic electric motorbike company. With a mission to drive mass adoption of green transportation in the country, Dat Bike aims to manufacture modern, tech-driven electric bikes for the mass market and develop solar-powered battery charging infrastructure.
Deep C Green is a subsidiary of Deep C Industrial Park, an aspiring eco-industrial park in Haiphong. Deep C Green is looking to expand the installation and operation of rooftop solar panels on tenants' roofs to enhance energy efficiency and reduce the carbon footprint for Deep C Industrial Park.
Egreen Technology JSC is a supplier of biogas electricity for livestock farms. With its system of biogas-fueled electricity generators, Egreen can help farms cut biogas emissions and significantly reduce electricity costs.
Hoa Binh High-Tech Environment JSC is a company in industrial waste management using circular economy principles. To increase and enlarge the scope of business, the company has created a new entity to collect, transport and treat industrial and hazardous waste products after recycling. This project is an extension of a successful first phase.
Power Engineering Consulting JSC 4 focuses on treating and reusing coal-fired power fly ash to produce autoclaved aerated concrete bricks and other types of unburnt bricks. These are alternatives to traditional burnt clay bricks, contributing to the decarbonisation of the construction materials sector in Vietnam.
VietNam Sustainable Materials Corporation is the manufacturer of bamboo products such as bamboo boards, bamboo panels for flooring and building materials, activated carbon, pellet fuels, and handicrafts. The project works with forestry partners with sustainable cultivation practices and aims to increase the economic value of bamboo across its value chain in the Vietnam's central highlands.
VRB Energy is a large-scale integrated vanadium-flow battery producer. The project is VRB Energy's expansion into Vietnam. VRB batteries use vanadium electrolyte to store energy and enable wider use of renewable power generation such as wind and solar.
The CFA is a £10.8 million technical assistance programme funded by International Climate Finance, through the UK Government's Department for Business, Energy and Industrial Strategy.

It is implemented in nine countries (Colombia, Egypt, Mexico, Nigeria, Pakistan, Peru, South Africa, Turkey, and Vietnam) and is working to develop a sustainable pipeline of bankable, low-carbon projects in each country.

The project is part of the UK's efforts to support climate action on a global scale, facilitating access to finance and helping governments achieve climate targets under the Paris Agreement.
Linh Trang