Sustainability has become increasingly critical for organisations to remain relevant and competitive in today's world, with companies putting more effort into their sustainable business goals.
Employees are seeking new opportunities in green sectors
The 2023 the CxO Sustainability Report by Deloitte reveals that 75 per cent of businesses have increased their sustainability investments over the last year, and climate change is ranked as the second most pressing factor for them to focus on in 2023. In other words, sustainability is found to associate with employer value proposition (EVP) that helps attract a huge number of candidates.
It does not take long for employers to realise that sustainability can also be a powerful recruitment tool. Studies reveal that about 70 per cent of employees and jobseekers feel that a sustainability programme makes an employer more appealing. About 65 per cent of respondents said that they are more likely to apply for a job with a company that has committed to sustainable practices.
Cutting back on sustainability spending could make a business less appealing to the workforce, so highlighting sustainability and social responsibility communications to employees and recruits can increase engagement.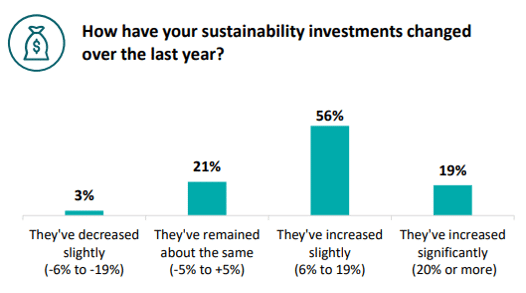 Since 2022, Manpower Group Vietnam has helped employers find talent for hundreds of green jobs. So far, half of the demand has come from the manufacturing sector (48 per cent), followed by energy, agriculture, and technology, according to Manpower Group Vietnam's internal recruitment data.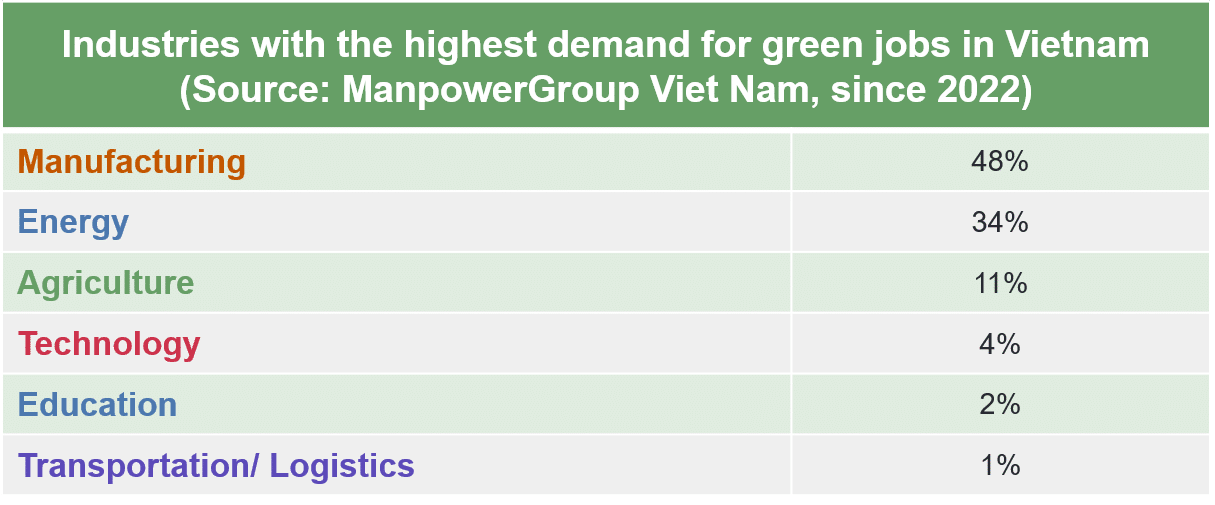 From Nguyen's observations, workers are paying more attention to green jobs, and this is clearly shown in their job search tendencies.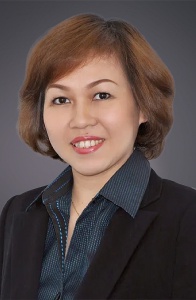 From Manpower Group Vietnam's recruitment experience, in the past, candidates were often interested in general factors like salary range and benefits, location, and career development. Now, recruitment consultants receive more additional questions about the company's social and environmental commitments and activities.
Recruitment adverts mentioning businesses' environmental, social, and governance efforts often attract a larger number of candidates.
Similarly, the majority of employers now highlight their sustainability achievements in their business profile, believing that it makes them more attractive to candidates.
Sustainability – an essential focus for the long run
There is a common belief that during tough times, businesses have to cut costs, including ones related to sustainable development. The thought is that companies will focus more on how to survive through a crisis instead of investing in sustainability programmes. However, in reality, that is not the case.
Some companies may consider cutting costs based on their own priorities, but they need to be very considerate when it comes to sustainability. Temporary expense cutting can help businesses save some money immediately, but eventually this decision may harm the employer's branding.
Also, green jobs do not just exist. They are born from leaders' business strategies and need to be transformed into specific practices through employee training programmes.
Manpower Group Vietnam has seen that more companies are placing significance on green practices in their operations, especially in relation to talent acquisition. The group has been partnering with both local and multinational corporations to promote green job opportunities.
Bich Thuy