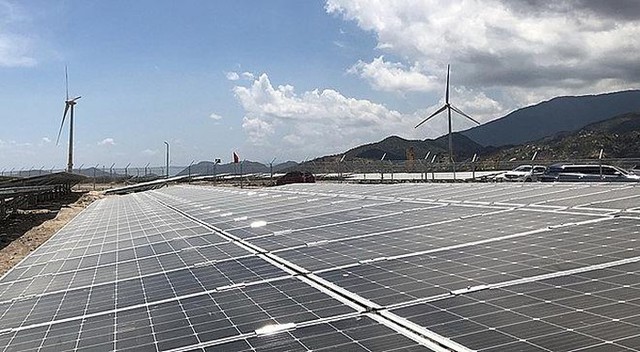 Deputy Prime Minister Tran Hong Ha has recently signed Decision 893/QD-TTg to approve the National Energy Master Plan in the 2021-2030 period with a vision to 2050.
The plan targets to ensure national energy security for socio-economic development and national industrialization and modernization, and protection of the environment.
Particularly, the plan aims to successfully transform energy, significantly contributing to materializing the net-zero emissions goal by 2050, formulating an overall industrial energy ecosystem based on renewable energy and new energy.
Specific goals
The plan aims to ensure sufficient energy supply in the country and meet the socio-economic development goals, with an average GDP growth rate of around 7 per cent per year in the 2021-2030 period and approximately 6.5-7.5 per cent in the period leading up to 2050.
Total primary energy demand is expected to hit 107 million tons of oil equivalent by 2030 and 165-184 million tons by 2050.
Total primary energy supply is forecast to reach 155 million tons and 294-311 tons of oil equivalent by 2030 and 2050, respectively.
The plan also targets to raise oil and petroleum product reserve capacity of 75-80 days of net imports by 2030. After 2030, the reserve capacity will be increased up to 90 days of net imports.
Regarding a socially just energy transition, renewable energy is set to account 15 – 20 percent of total primary energy sources by 2030 and 80 – 85 percent by 2050.
The document targets to save around 8-10 percent of energy by 2030 and approximately 15-20 percent by 2050.
The projected greenhouse gas emissions are about 399-449 million tons by 2030 and about 101 million tons by 2050.
The goal is to cut the emissions by 17-26 percent by 2030 and about 90% by 2050 compared to the normal development scenario.
Efficient exploitation and utilization of domestic energy resources are highlighted, with the production of crude oil, natural gas, and commercial coal targeted at 6 – 9.5 million tons, 5.5 – 15 billion cubic meters, and 41-47 million tons, respectively, for the 2021-2030 period.
By 2030, the plan aims to establish and develop several clean energy centers in the northern, central, and southern regions when favorable conditions are available.
It also intends to develop new energy production to meet domestic demand and for export. The capacity of green hydroelectricity production is estimated at about 100,000 – 200,000 tons per year by 2030 and about 10-20 million tons annually by 2050.
To achieve these goals, six solutions were set forth, involving capital mobilization and allocation; mechanisms and policies; environment, science, and technology; human resource development; international cooperation; and implementation and supervision of the plan./.
Kim Loan