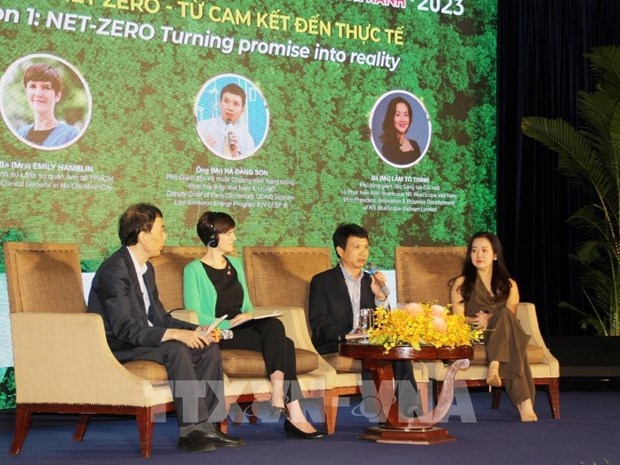 Vietnam's commitment to net zero emissions (Net Zero) by 2050 at the 2021 United Nations Climate Change Conference (COP26) is a milestone for the development of a green economy in the country.
However, on the pathway to Net Zero, there are not only opportunities but also challenges for both the nation and businesses, experts shared on August 18 at the Green Economy Forum 2023, held by the Saigon Times group in Ho Chi Minh City.
At the forum themed "Net Zero – Pathway Toward Sustainability", experts said approaching Net Zero is both a responsibility and an opportunity for the business community; in which the "early birds" will enjoy the advantage of being pioneers.
In addition, enterprises that position their brands earlier in the changing consumer trends will exploit the potential of market diversification, especially in promoting import and export activities.
The active participation of the business community, especially the private sector and consumers, will also promote the creation of a wave of green economic development and build a sustainable foundation for green growth. Therefore, the Government and localities need to have mechanisms and policies for breakthrough innovation to support enterprises in transforming their production and business models, and to increase public awareness of green and sustainable development.
Regarding Net Zero, Prof. Dr. Jonathan Pincus, Senior International Economist at the United Nations Development Programme (UNDP) said that energy transition, application of renewable energy, and energy saving are among important issues. To realize the transition, both the national economy and business activities need technological solutions, using energy-saving materials, and developing renewable energy.
Meanwhile, Ha Dang Son, Deputy Chief of Party (Technical) of the USAID Vietnam Low Emission Energy Programme II (V-LEEP II) said that it is necessary to see renewable energy development as an opportunity, but opportunities only come when there are mechanisms and policies to promote. Each country must have a long-term plan, especially for Vietnam, it should promote business models suitable to the renewable energy market and green growth goals.
Currently, many domestic and foreign banks and organisations have strong commitments to supporting Vietnam's green transition. However, how to use the capital to serve this goal in Vietnam is an issue that requires the support of ministries and agencies, Son said, adding that investors always seek a long-term plan.
Phan Van Mai, Chairman of the Ho Chi Minh City People's Committee said that the city issued a strategy and plan to develop a green economy through building green transition policies and mechanisms in industries and fields, including energy, technology, and manufacturing and businesses.
The city wants to realise the goals of sustainable development, and green growth, he said, adding Can Gio district was selected as a pilot locality for green energy transition and carbon emission reduction./.
(VNA)