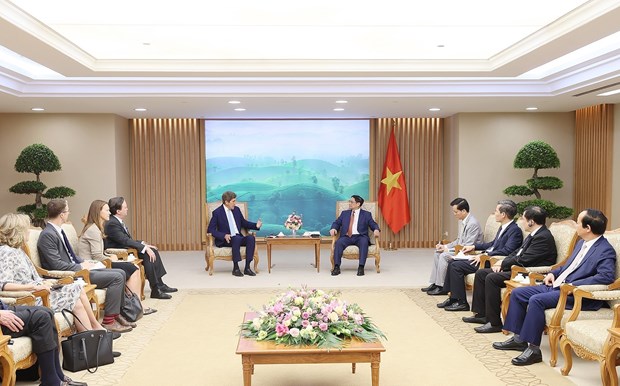 Prime Minister Pham Minh Chinh received visiting US Special Presidential Envoy for Climate John Kerry in Hanoi on September 9, expressing Vietnam's wish to cooperate with the US in climate change response in a way that suits the Southeast Asian country's socio-economic conditions.
The host leader shared his guest's view that the two countries' comprehensive partnership is increasingly substantive and stable on the basis of respect for each other's independence, sovereignty, territorial integrity, and political regimes.
He spoke highly of US President Joe Biden and Special Envoy Kerry's efforts to help with global endeavours to improve the awareness of and actions in climate change response.
Highlighting Vietnam's great potential for developing renewable energy, PM Chinh called for the US's assistance for the country in this field.
He said climate change is a global issue needing global and people-centred solutions while just energy transition is required. Meanwhile, Vietnam is taking strong measures to promote green growth and climate change response.
Calling for the US's support for Vietnam in the areas, the Government leader asked the North American country to help encourage organisations to assist Vietnam through concrete programmes and projects such as those on preventing subsidence caused by climate change in the Mekong Delta and boosting energy transition.
For his part, Kerry said the US consistently attaches importance to relations with Vietnam; supports the latter to play a proactive role in the region and respond to international issues, including climate change; and highly values Vietnam's commitment to achieving net zero emissions by 2050.
The US will continue enhancing cooperation with and assistance for developing countries, including Vietnam, to cope with climate change, especially in the development of clean energy and sustainable infrastructure, and the smart management of water resources and other resources in the ecosystem, he went on.
The Special Envoy affirmed that as a long-standing friend of Vietnam, he will support the continued reinforcement of ties with the country in realising the commitments made at the 26th United Nations Climate Change Conference (COP26) as well as coming meetings of the parties to the UN Framework Convention on Climate Change./.
(VNA)