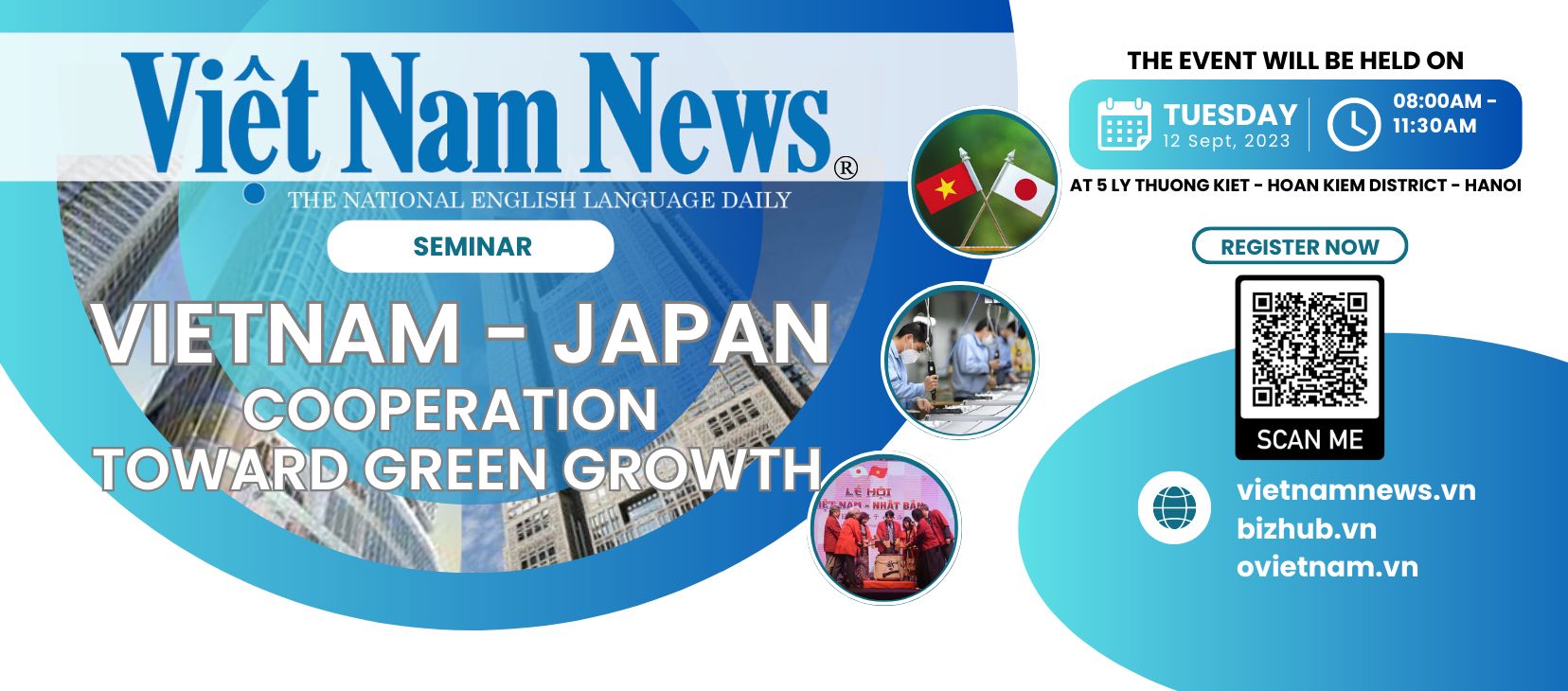 A seminar themed "Việt Nam-Japan Cooperation Towards Green Growth", co-organised by Việt Nam News, the country's English language daily newspaper, and the Ministry of Agriculture and Rural Development (MARD), is to take place on September 12 in Hà Nội on the occasion of the 50th anniversary of the establishment of diplomatic relations between the two countries.
The seminar is expected to be attended by leaders from various Vietnamese ministries and agencies, including the Ministry of Agriculture and Rural Development, the Ministry of Planning and Investment, as well as top officials from the Vietnamese Embassy in Japan, the Japanese Embassy in Việt Nam, the Japan International Cooperation Agency (JICA) and the Japan External Trade Organisation (JETRO). Additionally, representatives of several provinces and cities in Viet Nam, along with many experts and businesses from both nations, will participate in this significant event.
During the seminar, participants will discuss perspectives on green growth from both sides, opportunities and challenges in realising Việt Nam's Green Growth Strategy for the 2021-30 period and the vision for 2050, the impact and significance of Japan's support for green growth in the Southeast Asian country, suggestions for attracting investment from Japan for green growth, and recommendations from businesses to help implement the strategy.
First published on June 17, 1991, Việt Nam News was the first English-language daily newspaper in the country under the Vietnam News Agency. After 32 years of formation and development, Việt Nam News has grown into an indispensable source for a wide range of topics both domestically and internationally for embassies, international organisations, foreign companies, and many large hotels in Việt Nam. It is also frequently found on flights of domestic and international airlines.
Today, Việt Nam News remains the only daily English-language newspaper in Việt Nam and is one of the country's credible newspapers on foreign affairs. In addition to the print edition, the newspaper also runs an English-language homepage https://www.vietnamnews.vn, along with two other English-language websites: www.bizhub.vn (specialising in business and finance) and www.ovietnam.vn (culture and tourism).
Register: https://docs.google.com/forms/d/1KuvrJqpKVfsI-APYMMYN8RsV-4XbmuETScHk7Exq8dU/viewform
(VNS)