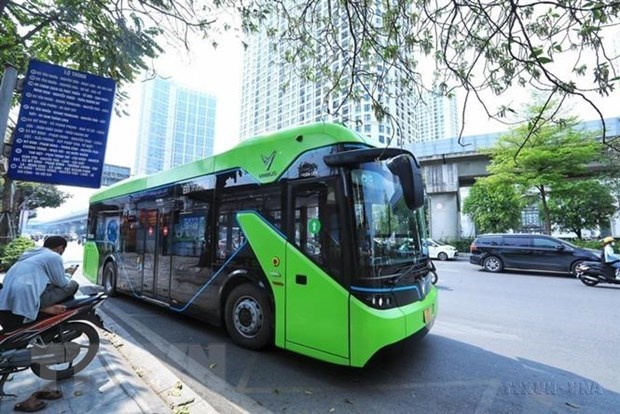 A consultation workshop was held in Hanoi on October 27 to finalise a draft resource mobilisation plan to implement the Political Declaration on establishing the Just Energy Transition Partnership (JETP).
The event, held by the Ministry of Natural Resources and Environment (MoNRE) and the International Partners Group (IPG), attracted representatives of embassies, the IPG, international financial institutions of the Glasgow Financial Alliance for Net Zero (GFANZ), international organisations in Vietnam, the country's JETP Secretariat, and the working group assisting the national steering committee for implementing Vietnam's commitments made at the 26th UN Climate Change Conference (COP26).
In December 2022, the Political Declaration on the JETP establishment was announced by Vietnam and IPG members, including the EU, the UK, the US, Japan, Germany, France, Italy, Canada, Denmark, and Norway, at the commemorative summit marking 45 years of the ASEAN – EU dialogue relations in Brussels.
MoNRE Deputy Minister Le Cong Thanh said that the JETP is a political, diplomatic and economic issue and also a global partnership that aims at just energy transition, green technology transition, emission reduction, and low-carbon economic development. Therefore, Vietnam needs to coordinate with international partners to build a plan for mobilising resources for the JETP implementation.
The plan will outline a roadmap for achieving just energy transition targets, and identify the principles and criteria for selecting investment projects and attracting finance for the implementation. It will also clarify investment demand and chances to carry out just energy transition activities in Vietnam. The plan looks to receive and effectively use assistance from the IPG and GFANZ for technology transfer, governance, manpower training, and finance for the work.
He said the resource mobilisation plan is the first step in the JETP implementation, reflecting Vietnam's wish to cooperate with international partners to boost just energy transition to concurrently reduce greenhouse gas emissions, guarantee national energy security, and ensure people's access to energy sources with reasonable prices.
The plan will be updated regularly and open to all organisations, individuals, and businesses in order to help reach the target of net zero emissions by 2050, the official noted.
Thomas Wiersing, Chargé d'Affaires a.i. of the EU in Vietnam, said to achieve net zero emissions and carry out the 8th National Power Development Plan, the country needs concrete measures for all areas of the energy sector and the economy. The JEPT will be a useful tool, and the resource mobilisation plan the first step for promoting this process.
Echoing the view, Mark George, Climate Counselllor at the British Embassy, held that the resource mobilisation plan is a chance for outlining a roadmap for Vietnam to realise its just energy transition ambition to bolster growth, reach socio-economic targets, enhance energy security, and strengthen competitiveness.
During the plan drafting process, MoNRE and the JETP Secretariat have held consultations and in-depth discussions with related agencies and organisations. Nearly 500 opinions have been sent to the Secretariat to perfect the draft./.
(VNA)