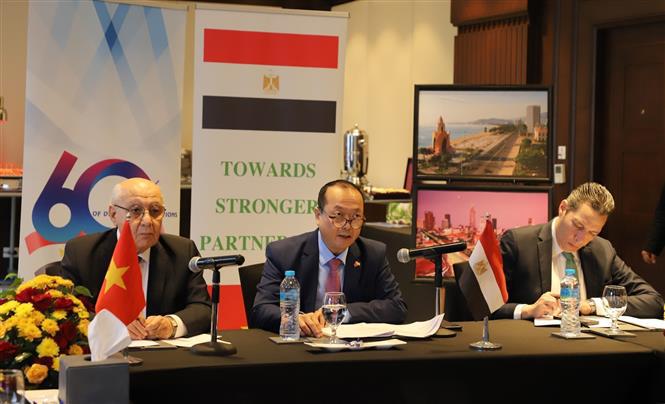 The Vietnam Embassy in Egypt on October 31 held a hybrid workshop to exchange experience in attracting green finance between the two nations, as part of activities marking the 60th founding anniversary of their diplomatic relations (1963-2023).
Addressing the event, Vietnamese Ambassador Nguyen Huy Dung held that the Vietnamese and Egyptian Governments are committed to stepping up green growth, considering it a sustainable development path amid the global economic recovery following the COVID-19 pandemic and unexpected developments in international relations.
The diplomat briefed participants Vietnam's national green growth strategy for the 2011-2020 with a vision for 2050, adding that the country made a commitment at COP26 to achieve net-zero emissions by 2050. The cost of the green transition and carbon reduction process is estimated at around 17 billion USD per year and requires significant external resources, he noted.
Dung said to fulfill and meet their commitments to sustainability, it is crucial for Vietnam and Egypt to leverage climate diplomacy serving the attraction of green financial resources.
For his part, Ambassador Rao'f Saad, Advisor to the Egyptian Minister of Environment, highlighted the crucial role of climate diplomacy in mobilising funds for green projects.
He held that Vietnam and Egypt have a golden opportunity to initiate a new phase in their bilateral relations by enhancing climate diplomacy, strengthening cooperation in technology research and transfer for mutual benefits.
Showcasing theoretical and practical aspects of climate diplomacy, speakers stressed the importance of collaboration in developing domestic technologies to reduce dependence on those from developed nations, and promoting green growth and technology self-sufficiency. They also discussed cooperation in the fields of banking, finance, and business startup to ensure that the Vietnamese and Egyptian economies successfully carry out green growth policies./.
(VNA)