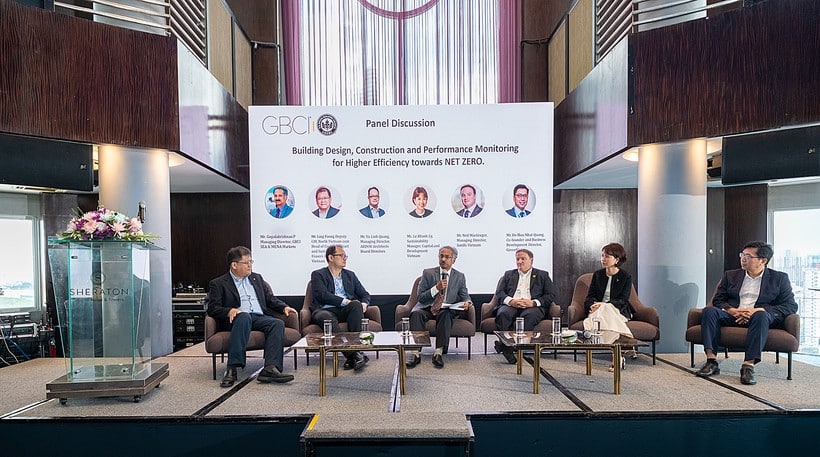 Leadership in Energy and Environmental Design (LEED) is the most widely used green rating system in the world, and is administered by the US Green Building Council (USGBC).
The set criteria include the site selection, energy and water use efficiency, waste management, carbon footprint, and the health and wellbeing of the occupants.
In Vietnam, the journey to create a chain of green buildings started with the LEED Silver certification in 2010 being awarded to the Colgate factory and the logistics centre of YCH Protrade Distripark in Binh Duong.
Over the past 10 years, Vietnam has seen many projects spanning various industry segments. A series of new projects have applied for LEED certification, and to date, more than 400 projects are involved with LEED.
The data shows that environmental, social, and governance (ESG) is now not only a trend in business operations but also in building design, where it also plays an important role in enterprises' sustainable development journey.
At an event on July 5 between the USGBC and Green Business Certification Inc. (GBCI), experts commented on the importance of environment certification for buildings.
The event brought together a number of business leaders from various companies involved in the green construction sector, along with this year's LEED-certified nominees.
The importance of LEED certification is now being seen in not only new projects, but also existing assets. The Existing Building LEED certification for operations and maintenance makes it easier for organisations and businesses to practice ESG.
In the panel discussion, Gopalakrishnan Padmanabhan, managing director of GBCI India, Southeast Asia, and the Middle East, and other leaders, spoke about the importance of LEED certification in terms of business planning, design and operations, net-zero, and the ESG pathway. The LEED certificate granted to green buildings is a key factor that makes it easier for organisations to practice ESG.
According to Padmanabhan, Vietnam is currently one of the fastest-growing countries in the region. Many domestic and international enterprises operating in Vietnam in the fields of commerce, residential planning, warehouse and industrial facilities, manufacturing industries, services, and healthcare are choosing LEED to green their assets and set their net-zero goals through LEED Zero.
"By adopting LEED, enterprises are creating a strong wave of green buildings by inspiring and motivating other domestic and foreign businesses to follow suit," he said.
Vietnam currently holds 28th position in terms of the number of LEED-certified green buildings. Padmanabhan believes that this is a huge step forward that will catapult Vietnam into the top 10 countries within the next decade.
Garment and textile factories in Vietnam have started following LEED, and a further push for more adoption could ensure that international fashion brands make Vietnam a preferred manufacturing destination – as seen in Bangladesh, which has close to 500 factories involved with LEED.
"The strong increase in demand for LEED certification is a positive sign that Vietnam is developing rapidly and becoming more aware of ESG and green buildings," said Padmanabhan.
Agreeing with the leader of GBCI, Do Huu Nhat Quang, co-founder of GreenViet, said that Vietnam still has a lot of room to develop and increase the number of green buildings throughout the territory.
Quang, a green building certification specialist with many years of experience, stated that Vietnamese organisations and enterprises face some challenges, such as the sourcing of green materials. However, the country's net-zero 2050 commitment should hopefully see the industry working closely with key stakeholders to come up with a holistic approach, including incentivising green investments into renewable energy and focusing on capacity building through education.
GBCI independently recognises excellence in green business performance and practice globally. Established in 2008, it exclusively administers project certifications, professional credentials, and certificates within the framework of the US Green Building Council's LEED rating system.
It also administers the PEER standard for power systems, the WELL Building Standard, the Sustainable Sites Initiative, Excellence in Design for Greater Efficiencies, TRUE certification for zero waste, and Investor Confidence Project for energy efficiency retrofits.
Nhat Ha