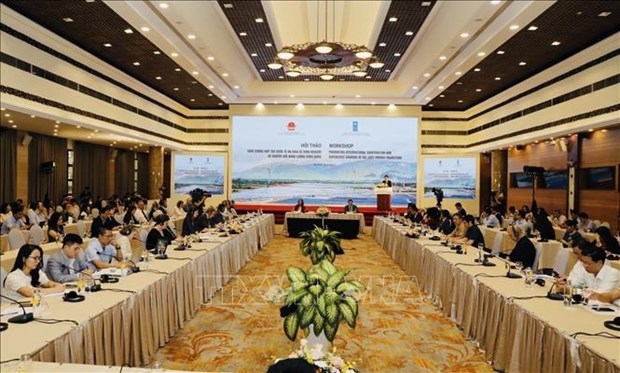 The Ministry of Foreign Affairs and the United Nations Development Programme (UNDP) on May 26 hosted an international workshop to enhance cooperation, encourage knowledge transfer, and promote experience sharing in the just energy transition.
The workshop convened senior government representatives from the three countries with Just Energy Transition Partnerships (JETPs) – South Africa, Indonesia, and Vietnam – as well as representatives from other seven developing countries with a strong interest in the energy transition, to create a forum for them to learn from one another.
The workshop also brought together representatives from the International Partners Group (IPG), the Glasgow Financial Alliance for Net Zero (GFANZ), development partners, key Vietnamese ministries and representatives from 63 provinces, and other stakeholders.
This high-level event seeks to strengthen international coordination, particularly emphasising South-South collaboration in the just energy transition. Furthermore, it aims to promote mutual understanding on finance among diverse stakeholders.
Addressing the imperative of limiting the global average temperature increase to 1.5 degrees Celsius above pre-industrial levels as the Paris Agreement mandates, the workshop emphasises the need for innovative, equitable, and sustainable approaches to decarbonise economies and achieve climate and development objectives. The concept of a just energy transition is recognised as a catalyst for achieving the Sustainable Development Goals (SDGs), fostering job creation, enhancing access to clean energy, and building resilience.
To realise the just energy transition, developing countries require multi-faceted international support in the form of finance, technology, knowledge, and capacity building to effectively decarbonise their economies and establish low-carbon development pathways.
Speaking at the event,  Do Hung Viet, Deputy Minister of Foreign Affairs, said that Vietnam is one of the countries most affected by climate change, often hit by floods, droughts, sea level rise, and extreme weather events.
The country's central development policy has always been to consistently build a green, circular, and eco-friendly economy. Although just energy transition will bring many benefits, it will also pose many difficulties and challenges for developing countries, including Vietnam in ensuring socioeconomic development and ensuring the interests of the state, people, and businesses.
He emphasised the need for a just energy transition. Accordingly, each country needs to give full attention to the rights of all people and leave no one behind. Countries that have emitted a lot of greenhouse gases in the past need to fulfil their historical responsibility, supporting developing countries in finance, technology, and capacity building.
Energy transformation in developing countries should have an appropriate roadmap, taking into account the conditions and circumstances of each country.
Ramla Khalidi, UNDP Resident Representative in Vietnam said that climate and innovative finance – both domestic and foreign, and both private and public – is of paramount importance in the energy transition.
Governments can create favourable conditions for private investment by putting in place forward-looking and transparent regulatory and pricing regimes, and through strategic public investments in essential infrastructure, she said.
The energy transition needs to be fair and equity-driven for developing countries to transition sustainably to low-carbon economies and establish climate-resilient trajectories while realising their sustainable development objectives. The energy transition must be just and inclusive for workers, local communities, and affected people through the creation of new economic opportunities, job creation, reskilling, capacity-building, and enhancing social safety nets, she said./.
(VNA)