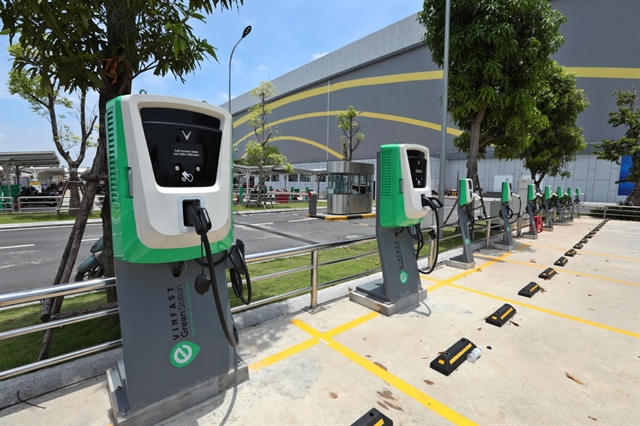 Buyers of electrical vehicles (EVs) could receive an incentive totalling US$1,000 per purchase.
This was one of the Ministry of Transport's proposals on incentives for EV producers and users, which have been submitted to Deputy Prime Minister Trần Hồng Hà in a bold effort to promote the transition away from fossil fuel cars and reduce greenhouse gas emissions as Việt Nam aims to achieve net zero by 2050.
Accordingly, a sum of $1,000 would be provided to buyers for each EV purchase, which aimed to change the consumption behaviour away from fossil fuel vehicles, the ministry said.
The ministry suggested three types of EVs to receive incentives, including battery-powered EVs, fuel cell electric vehicles (FCEVs), which are powered by hydrogen, and solar EVs. Existing policies to encourage the use of EVs of Việt Nam only focus on battery EVs (BEVs) with incentives relating to special consumption tax and registration fees.
The ministry proposed to add EV manufacturing and assembling industries, and battery production to the list of industries that receive special investment incentives. It also proposed an exemption and reduction of import tax on equipment, production lines, and import of complete components and components for the production and assembly of EVs and batteries.
For EV manufacturing, assembly, and maintenance companies, the ministry asked for a preferential mechanism that helps them access financial sources. At the same time, a tax incentive mechanism is also needed for imported EVs.
Notably, according to the ministry, many businesses have proposed the continued application of the special consumption tax incentive of 3 per cent for EVs with nine seats or less after February 28, 2027, for domestically produced and assembled EVs. The companies also asked for VAT exemptions for the first five years and a reduction of 50 per cent for the five following years.
The registration fee for EVs is exempt for the first five years from March 1, 2022. In the next five years, from March 1, 2027, the first registration fee is 50 per cent of the fee for petrol and diesel cars with the same number of seats.
The ministry also proposed exemptions of import tax on components and equipment for the installation of electric charging stations, corporate income tax and land fee for five years and a reduction of 50 per cent for the next five years.
According to Đàm Hoàng Phúc from the Hà Nội University of Science and Technology, it was critical for Việt Nam to not only develop the market for EVs but also build an EV production industry.
EV production was the race not only between makers but also between countries, he said, stressing that good policies would promote the development of the EV industry.
Charging infrastructure
The ministry also proposed standards for charging stations to be raised together with policies to encourage investment in the development of charging stations, which was critical to promoting the development of the EV market and production industry.
The ministry said that many companies stepped up to develop charging stations throughout the country.
VinFast, a major EV maker in Việt Nam, has developed a system of charging stations with more than 150,000 charging ports for electric motorcycles and electric cars in all 63 provinces and cities.
Another company, EVIDA, also participated in providing charging services in Việt Nam with EBOOST charging system which now has more than 850 charging points across the country.
Việt Nam Electricity (EVN) joined the market with the pilot operation of some charging stations in the central region.
Some car makers also started to install charging stations such as Porsche, Audi or Mercedes – Benz with plans to expand the charging system in major cities.
Global companies such as Siemens, Charge+ and ABB were also eyeing to invest in charging infrastructure in Việt Nam, the ministry said.
Although the number of charging stations was increasing rapidly, Việt Nam needs policies and solutions to expand and upgrade the charging infrastructure to meet the demand, the ministry said.
Potential market
According to the Transport Ministry, there were now only two EV producers and assemblers – Vinfast, a member of multi-industry Vingroup, and TMT Automobile Joint Stock Company.
Vinfast provides the market with four types of electric cars. A car with batteries has prices ranging from VNĐ538 million to more than $2 billion, while the versions without batteries are from VNĐ458 million to nearly VNĐ1.7 billion.
The Thành Công Group Joint Stock Company and Trường Hải Automobile Joint Stock Company have also introduced electric car models to explore the market and eyed domestic production and assembly.
The number of EVs in Việt Nam has increased rapidly in recent years. From 2018 to 2021, there were only 167 vehicles. By July 2023, the number had increased to nearly 12,600. However, they are mainly passenger cars and city buses.
Recently, Geleximco Group said that it planned to invest in an EV plant in Thái Bình Province.
To realise Việt Nam's commitment to achieving net-zero carbon emissions by 2050, the Prime Minister approved an action programme on green energy transformation, reducing carbon and methane emissions in the transport sector.
Under the programme, Việt Nam will promote the production, assembly, import, and use of electric motorised road vehicles, along with charging infrastructure in the 2022-30 period. It is expected that from 2025, all new buses on roads will use electricity and green energy.
From 2030, all new taxis will use electricity and green energy. By 2050, all road motorised vehicles and construction vehicles participating in traffic will be converted to electricity and green energy. Việt Nam aims to complete charging infrastructure to sufficiently provide green energy to meet the demand of people and businesses nationwide.
According to market intelligence in 2022 of the International Trade Administration, the EV market in Việt Nam was in its infancy, yet there was potential for significant growth, given its young population and an increasing middle class with strong interest in cutting-edge technologies, fuel efficiency and environmental awareness. "These are opportunities for the EV market to grow at a double-digit rate in the coming years," the report said.
(VNS)