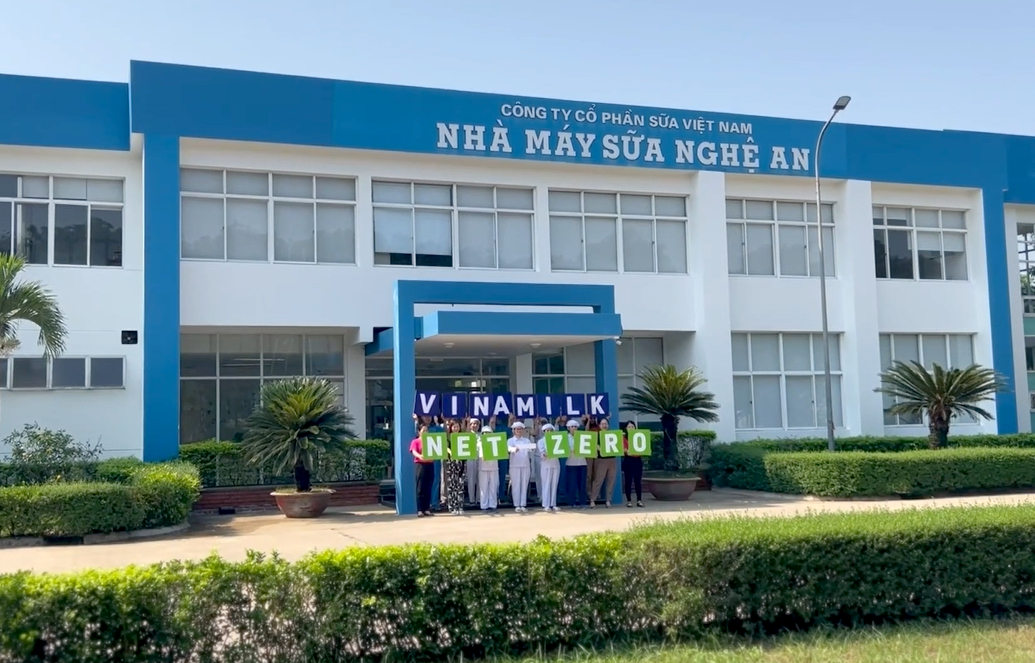 Farms and factories achieve carbon neutrality together
After completing the greenhouse gas inventory at the units in 2022, Vinamilk Nghe An Dairy Factory and Vinamilk Nghe An Dairy Farm have recently become the first units to achieve carbon neutrality according to the PAS2060:2014 standard, in the period from January 1 to December 31, 2022.
According to published and confirmed reports, these two units' total greenhouse gas emissions have been neutralized by 17,560 tons of CO2, equivalent to about 1.7 million trees. This results from Vinamilk's "double action" in reducing greenhouse gas emissions in production and livestock production while maintaining the company's green tree fund to absorb greenhouse gases for many years.
Nguyen Viet Dung, General Director of Bureau Veritas – a certification body for carbon neutrality for Vinamilk Nghe An Dairy Farm, affirmed that "cutting greenhouse gas emissions and moving to Net Zero in the dairy industry is very challenging, especially with large-scale dairy farms. This goal requires comprehensive investment in technological solutions, green energy transformation, circular economy application, etc. It can be said that the results achieved by Vinamilk are very remarkable and have great encouraging value for the journey to Net Zero of the dairy industry."
Up to now, Vinamilk has spent more than ten years in sustainable development. In 2010, Vinamilk switched to using Biomass steam instead of traditional farm production energy. By 2012, the company officially applied and reported the Sustainable Development Program according to GRI standards. Immediately after, in 2013, Vinamilk used power from CNG compressed air to replace DO/FO oil-fired boilers in the factory chain, helping save fuel and contribute to environmental protection.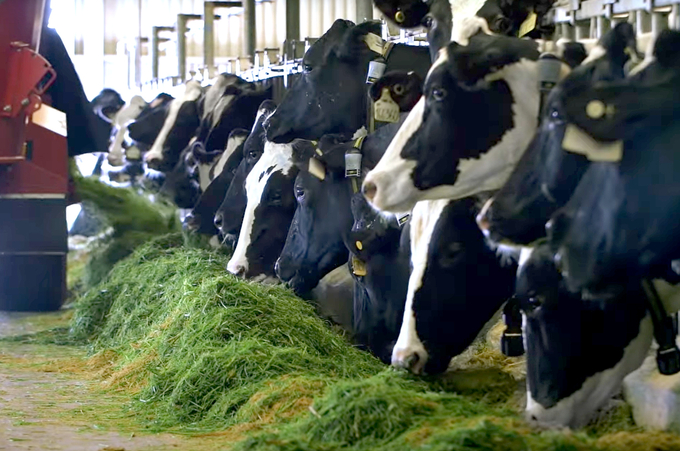 After the survey and pilot process, in 2020, Vinamilk started installing solar energy systems at all dairy farms. To date, 13 company farms have installed solar energy systems with a total capacity of 11 million kWh/year.
In 2022, Vinamilk also completed replicating the solar system installation model for the factory system and the main office. One of the latest installed solar power systems with a capacity of 3,394 kW at Vietnam Dairy Factory. This system uses 7,542 high-efficiency solar panels, 27,110 kW inverters, and high-quality auxiliary frames and conductors, with a design life of over 25 years.
Vietnam Dairy Factory is also known as the "Mega factory" super factory due to its modern automatic technology and massive capacity of 800 million liters/year (about 2.2 million liters/day). It will be raised to more than 100 million liters per year and 1 billion liters of milk/per year in the upcoming time. Clean energy from the solar power system is being used to serve the factory's production activities, thereby saving a large amount of traditional energy, actively contributing to the transition to sustainable energy, reduce the carbon footprint of manufacturing operations.
In 2022, 100% of Vinamilk's dairy farms implemented a greenhouse gas inventory, and 100% of factories completed a greenhouse gas inventory. Also, in 2022, Vinamilk became the first representative of Vietnam's dairy industry to participate in the Global Dairy Industry Initiative on Net Zero, founded by the International Dairy Federation (IDF), the Dairy Sustainability Framework (DSF), Global Dairy Platform.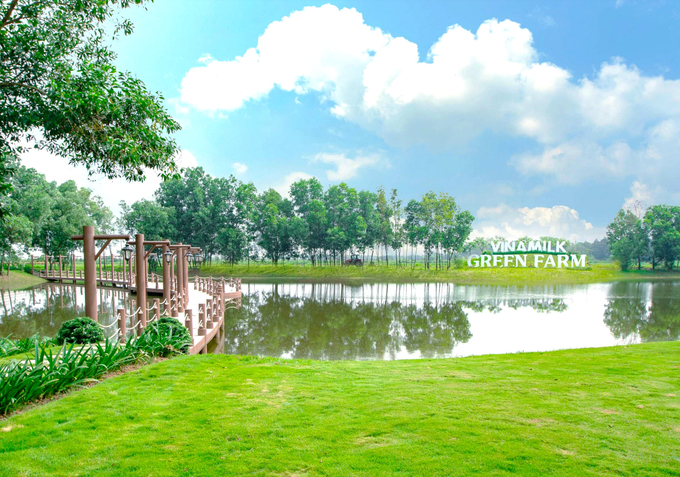 Net Zero in 2050
To achieve the net zero emission target as committed by the Government at COP26, Vinamilk, the leading dairy company in Vietnam, has officially announced the roadmap to Net Zero 2050 with the action plan "Vinamilk Pathways to Dairy Net Zero 2050".
Accordingly, Vinamilk makes sustainable development a spearhead of its development strategy in 2022 – 2026. It is precisely promoting the sustainable development roadmap according to successful models of the world dairy industry, applying science and technology to agriculture and production towards sustainability, increasing renewable energy, and planting trees to neutralize greenhouse gases. The company has developed an action program focusing on four key areas: Sustainable Agriculture – Green Production – Environmentally Friendly Logistics – Sustainable Consumption.
The specific roadmap of the Action Program "Vinamilk Pathways to Dairy Net Zero 2050" is Reducing greenhouse gas emissions by 15% by 2027, reducing and neutralizing emissions by 55% by 2035, and moving towards to Net Zero target by 2050.
At the Ceremony to announce the pathway to Net Zero, Mai Kieu Lien, General Director of Vinamilk, shared: "Looking back on the company's journey towards sustainable development, Vinamilk realizes this is the right direction and made decisions very early on. The announcement of Vinamilk's action program towards Net Zero in 2050, in addition to demonstrating the company's commitment to the Vietnamese community and people, Vinamilk also hopes to contribute to strongly conveying positive messages. Come to the business community, join hands with the government on the journey of the Net Zero mission – a journey for a greener, more sustainable future for ourselves and future generations".
Nguyen Dinh Minh Tam, the representative of the BSI organization (British Standards Institute) – the entity that issues carbon neutrality certification for Nghe An dairy factory, highly appreciated the orientation to reduce greenhouse gas emissions systematically. Vinamilk, as one of the few units, started  – with an accurate and thorough greenhouse gas inventory early on, thereby developing emission reduction roadmaps. He believes that with Vinamilk's strong commitment to Net Zero 2050, more of Vinamilk's units will soon achieve carbon neutrality.
---
To prepare for the future, from 2012 to 2020, Vinamilk and the Ministry of Natural Resources and Environment coordinated to deploy the Fund for 1 million trees in Vietnam. By the end of 2020, more than 1.1 million trees have been planted. The program has attracted a positive response from the community, thereby making an essential contribution to spreading the meaning of tree planting, serving disaster prevention, climate regulation, improving the ecological environment, contributing to socio-economic development for the country, and improving people's living standards.
Following the above green journey, in 2022, Vinamilk and the Ministry of Natural Resources and Environment restarted the project called "Tree planting to neutralize carbon towards Net Zero". This project is in response to the goal of bringing net emissions to zero by 2050, as committed by the Government of Vietnam at the UN Climate Change Conference 2021 in Glasgow (COP26).
---
Thanh Son – Nguyen Thuy / Translated by Ha Phuc