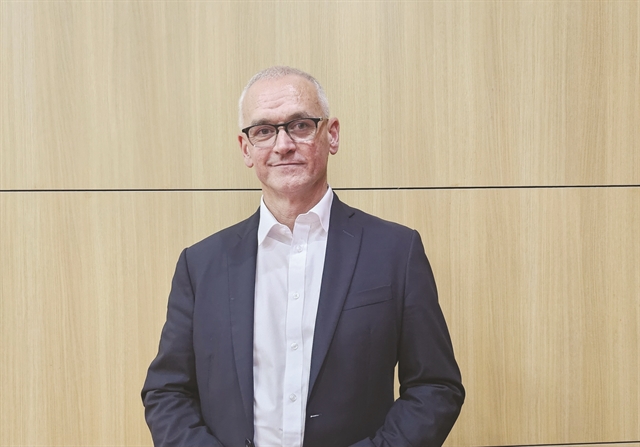 Ireland has evolved dramatically in the last few decades, moving from a small, agriculture-based economy to a modern and open services-based economy with significant foreign direct investment (FDI). The country is now a destination for high-quality higher education, a hub for tech innovation and a pharmaceutical leader. Given the trend towards developing the green economy, the country has also designated the green sector as one of Ireland's target sectors for investment and job creation.
As Việt Nam is pursuing a green growth path, Ireland's model can be a good example. Việt Nam News reporter Ly Ly Cao spoke to Professor Alan Barrett, CEO of the Economic and Social Research Institute (ESRI), Ireland's leading centre for policy-oriented social science research, to discuss how Việt Nam can learn from and follow in Ireland's footsteps based on the country's advantages.
How can Ireland's experience in developing its economy be relevant to Việt Nam?
In some ways, Việt Nam reminds me a little bit of where Ireland might have been about 20 years ago. In the past, Ireland was an agricultural country, so food production and agriculture were very, very important. And again, Việt Nam is one of those countries that would have had a strong agricultural base, but it's now transitioning into a more industrial sort of setting. And that's, again, part of the journey that Ireland was on, but Ireland might be sort of slightly ahead now.
It is in exactly the same way that Việt Nam has drawn on FDI to facilitate this transition. Ireland has used FDI for that purpose too, but we are now moving into an era where FDI is very much related to knowledge-based, sort of high-skilled workforces.
And so, I think that this is one of the differences shown. However, I have little doubt, given Việt Nam's embrace of foreign direct investment and its use of foreign direct investment in allowing that sort of transition and transformation of the economy, I can imagine that Việt Nam is now following Ireland's footsteps to keep with foreign direct investment, but a different type of foreign investment, which is more and more knowledge-based.
Because I think most countries have the ambition of not just keeping low-grade foreign direct investment, which is merely exploiting a cheap pool of labour.
What internal advantages do Việt Nam possess?
One of the key advantages of Việt Nam is its young and vibrant population. Especially when it comes to innovation matters, younger people are better abductors of innovation. They're better creators of innovation.
As countries get wealthier, people start having fewer children, while with health care improvements, people live longer. Japan is a very good example of this. Japan is a very old country, as are Italy and Germany.
Some people have even suggested that one of the challenges Japan is facing, like one of the reasons Japan has not been as successful in recent times, is just the age structure of the population.
So I think Việt Nam has an age structure that's very advantageous.
Another advantage is that Việt Nam is very open to trade. Việt Nam has joined many free trade agreements (FTAs) like the Comprehensive and Progressive Agreement for Trans-Pacific Partnership (CPTPP), ASEAN-Hong Kong Free Trade Agreement (AHKFTA), the EU-Việt Nam Free Trade Agreement (EVFTA), the Việt Nam – UK Free Trade Agreement (UKVFTA) or the Regional Comprehensive Economic Partnership (RCEP).
They will benefit not only the country's exports but also domestic consumers.
What do you think about Việt Nam's net zero ambitions? Will it hinder the country's growth target?
It is difficult to have economic growth without increasing greenhouse gas emissions. We, Ireland, are also likely to fail to meet the 2030 climate targets.
I think a lot of countries have just experienced that because it seems that our economic activity is organised in an energy-intensive way.
A lot of economists have argued for a very long time that the best way to do that is to impose carbon taxes, whereby there's a real financial penalty on companies.
Now we have to admit that technology plays a crucial role in helping reduce greenhouse gas emissions. Therefore, green technology is going to be a growing industry.
And so for countries looking at sectors to be involved in, it seems green technologies are going to be incredibly important.
There are costs associated with the transition, but there can be opportunities as well. And I think clever countries will seize those opportunities in many ways.
Which sector should Việt Nam prioritise to boost development?
Investment in education is very good in terms of foreign direct investment and other things as well.
The more highly educated the population, generally, the more productive that population is going to be.
I think for a lot of countries, the value of money spent on education is probably higher than money spent in other areas. From my perspective, I think that is a very important area of investment. But it needs to be maintained for a very long period of time.
But sometimes this can be difficult for politicians because they like to deliver results immediately. So this is also a challenge.
(VNS)