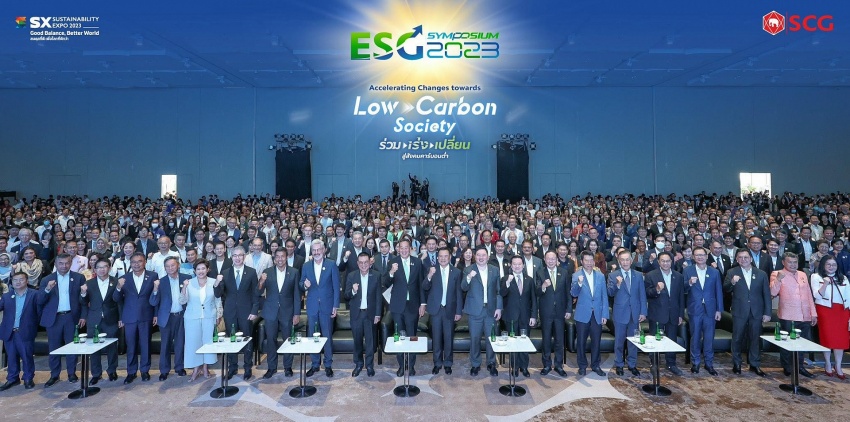 On October 5, over 500 representatives from the government, private sector, and civil society joined forces to propose four approaches to accelerate Thailand's transition to a low-carbon society to the Thai prime minister.
The collective efforts aimed at achieving net-zero by 2065 are:
(1) The acceleration of NDCs, which involves a collaboration to create the Saraburi Sandbox – Thailand's first model city that focusses on low carbon emissions. This initiative is designed to stimulate the economy through green industries, sustainable agriculture, and ecotourism.
(2) Accelerating the circular economy by making it a national agenda, generating economic value from recycled materials in the three main industries of packaging, automotive, and construction.
(3) The energy transition, aiming to unlock restrictions and liberalise the production and trade of clean energy through grid modernisation, battery storage technologies, and alternative energy sources.
(4) The just transition, by supporting vulnerable groups to become self-reliant through knowledge, low-carbon technology, and access to green financial resources.
Roongrote Rangsiyopash, president and CEO of SCG Group said, "We are currently entering a state of global boiling, which is escalating rapidly and severely affecting every aspect of life. The recommendations will be presented to the prime minister at the ESG Symposium 2023 today."
All stakeholders are eager to witness integrated efforts to expand the Thai economy while achieving net-zero emissions. The goal is to make Thailand's transition to a low-carbon society a tangible reality.
Thammasak Sethaudom, executive vice president of SCG stated, "Based on these four collaborative strategies, I am confident that if every sector collaborates, the Thai economy will progress in a low-carbon direction, ensuring environmental balance. This aligns with the philosophy of the Sufficiency Economy and the BCG economic model."
Kitipong Promwong, president of the Office of National Higher Education, Science, Research, and Innovation Policy Council, highlighted the development of the Saraburi Sandbox as a model city with low carbon emissions, laying the foundations for it to become Thailand's first net-zero city.
"A significant challenge lies in the fact that Saraburi is a base for heavy industries, which present significant environmental issues. Successfully transforming it into a low-carbon or net-zero city will require innovations and cross-sectoral collaboration. This initiative will serve as a model for other provinces to follow," he said.
The industrial sector is transiting to green strategies, investing to maximise the use of clean energy, and promoting the use and export of green products, such as low-carbon cement and bio energy pellets. Meanwhile, the agricultural sector is shifting to sustainable farming practices, such as utilising alternative wetting and drying techniques for rice farming, which reduce water consumption, costs, and greenhouse gas emissions.
"Efforts also encompass growing Napier grass on unused paddies as they undergo transformation into alternative energy sources. This reduces the carbon footprint and generates an income for the community. Additionally, establishing 38 community forests across the province will help expand the green spaces that absorb carbon and pave the way for ecotourism, benefiting local communities," Promwong continued.
Panrat Phechpakdee, senior vice president of the Federation of Thai Industries, said that for the circular economy system to be as successful as it has been in countries like Sweden and Finland, it must be made a national agenda with widespread implementation. The packaging, automotive, and construction industries in Thailand have already taken the lead and are achieving significant success.
"To replicate this success in other sectors, it is essential to introduce laws and policies to standardise the waste separation and collection systems nationwide. Also, an ecosystem should be established to promote the investment benefits and technological development related to the circular economy. This includes promoting the use of green products made from recycled or biological materials and pushing public agencies to prioritise the procurement of green products to encourage widespread acceptance," Phechpakdee suggested.
Charoenchai Chaliewkriengkrai, chairman of the FTI Saraburi Provincial Chapter stated, "In fact, 70 per cent of greenhouse gasses in Thailand come from the energy sector. To achieve the net-zero goal, the transition from high-carbon fossil fuels to clean energy is essential. Collaborative efforts are crucial to unlock the limitations, elevating the energy security and sustainability of the country and supporting economic growth by liberalising the trade of clean energy through grid modernisations."
"The public and private sectors should collectively utilise the electricity grid for easier access and convenience. It is important to stimulate investment by developing efficient and cost-effective battery storage technologies, promoting production as a part of the New S-Curve and utilising vacant spaces for various forms of energy storage, such as hydro, thermal, mechanical, and chemical."
"Additionally, we should develop new alternative power sources to be included in the national energy plan, such as plant-derived hydrogen and both community and industrial waste. Policies and incentives must also be revised that encourage the use of clean energy, with the goal of increasing the use of electricity from alternative sources from 13 to 50 per cent by 2050," he emphasised.
Jitsai Santaputra, a young environmental enthusiast and SDG7 Global Youth Ambassador for Southeast Asia said, "For Thailand to smoothly transition to a low-carbon society, we must ensure that no one is left behind, especially vulnerable groups who lack the resources and understanding of the adjustments required, such as small- and medium-sized enterprises, labourers, farmers, and local communities."
She suggested categorising those affected and providing appropriate support based on their needs. Collaborative efforts across all sectors are crucial to aid these vulnerable groups in raising their awareness, offering them access to low-carbon technologies and both domestic and international environmental funding sources, which amount to approximately 52 trillion Baht ($1.4 trillion).
She also proposed that Thailand should target securing funding for projects that are transitioning to a low-carbon society at 350 billion Baht ($9.5 billion) annually, such as the water management innovation fund for farmers to cope with changing climatic conditions and the forest rehabilitation and expansion fund, which can generate income from carbon credits. Additionally, focus must be placed on developing the skills and expertise of personnel affected by this transition, enabling them to adapt promptly and become self-reliant.
Marking its 11th year, the ESG Symposium 2023 was held at the National Sirikit Convention Centre in Bangkok and attracted 1,500 attendees. The event featured world-renowned speakers who shared their diverse experience and insights. The participants were able to explore exhibitions and innovative technologies for a low-carbon society from leading organisations from around the world.
Nguyen Huong