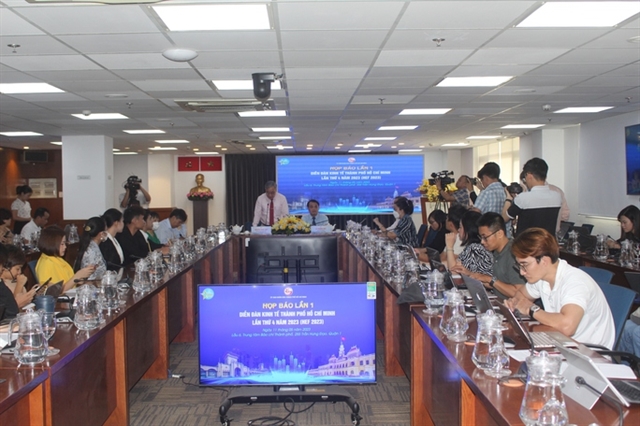 How to transform economic models towards green growth to achieve net zero emissions will top the agenda of the fourth HCM City Economic Forum to take place in September.
The annual international event, themed "Green growth – The Journey to Zero Emissions" is scheduled to take place from September 13-17.
Speaking at a press conference introducing the event on Thursday (May 11), Nguyễn Ngọc Hòa, chairman of the HCM City Union of Business Associations, said green growth is an inevitable choice for countries around the world, including Việt Nam.
In Việt Nam, green growth is a long-term instrument for achieving the dual targets of net-zero carbon emissions and fast economic growth, he said.
These targets are on Việt Nam's agenda as the country made its net-zero commitments at COP26 in 2021 in the UK, he added.
However, the path to green growth remains challenging for a developing country like Việt Nam as the awareness of the business community towards environmental protection is at an early stage.
Green growth should be based on science and innovation, taking advantage of new technologies, protecting the environment, and responding to climate change, he said.
Topics for discussion will include green growth and circular economy trends for megacities like HCM City; building a circular economy ecosystem aimed at reducing emissions to zero; policies in building green growth to reduce emissions to zero; international lessons and experiences to promote green growth and circular economy; and how to promote the green growth and circular economy in HCM City.
There will be a meeting between the city leaders with 100 leading CEOs in the world at home and abroad to discuss solutions to promote green growth in HCM City.
The forum will also include trade and investment promotion exhibitions and business connection activities.
The event will be attended by 1,500 delegates, including leaders of the Government, international financial institutions such as the World Bank, International Monetary Fund, International Finance Corporation, Asian Development Bank, World Economic Forum, and local and foreign businesses.
Việt Nam has issued the National Green Growth Strategy for the period of 2021-30 with a vision to 2050.
It has also issued a national action plan on green growth for the period 2021-30 and a circular economy development scheme to effectively use natural resources, reduce greenhouse gas emissions and respond to climate change.
The country's largest economic hub has approved a green growth strategy towards sustainable development by 2030.
The first HCM City Economic Forum was held in 2018.
(VNS)