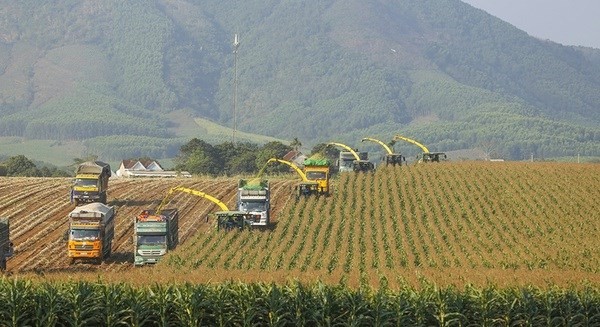 The engagement of the private sector in green and sustainable growth is crucial for Vietnam to complete its target of achieving net-zero emission and raising the green economy scale to US$300 billion in the total national GDP value in 2050, according to experts.
Amid the green consumption trend in the world, many Vietnamese enterprises are developing green production models to avoid being left outside the global supply chain.
Dinh Quoc Tuan, Vice Chairman and General Director of Amy Grupo, said that the firm plans to upgrade its factories with an aim to cut carbon emissions by 30-50 percent in the next five years.
Meanwhile, green solutions will be applied in its new projects from the material procession, production to distribution stages, he said.
Meanwhile, AN MI Tools Co., Ltd, a supplier of many multinational firms such as Samsung, Toyota and Honda, has invested in a rooftop solar power system for its 5,200sq.m factory.
According to the EU Commission, the current global market for green products and services is estimated at more than $5 trillion, with a growth rate much higher than that in traditional markets.
It is forecast that by 2030, the green economy will create about 24 million new jobs globally, while creating opportunities to attract investors in many new fields such as renewable energy, smart transportation, smart agriculture, green urban-building, and green finance.
According to Minister of Planning and Investment Nguyen Chi Dung, for Vietnam, green growth towards economic prosperity, environmental sustainability and social equality is an inevitable choice. This is also an opportunity for Vietnam to become a pioneer in the region, catching up with the development trend of the world.
Experts held that in order to overcome difficulties and challenges to reach the set target, Vietnam must complete the dual targets of maintaining GDP growth of 6-7 percent per year and popularising green technologies in economic activities. This will also create great chances and development spaces for the business community, both domestic and foreign ones.
Thomas Jacobs, Country Director of the International Finance Corporation (IFC) in Vietnam, cited the World Bank's Vietnam climate report as saying that from now to 2040, Vietnam needs $368 billion to overcome the impacts of climate change and realise the net-zero emission goal, during which greater contributions from the private sector is needed.
In order to mobilise this important resource, the Government of Vietnam must remove a number of basic barriers such as the legal and institutional environment for the private sector to invest in key emission-causing sectors, including energy, transportation, and transportation, telecommunications, agriculture and manufacturing with faster, simpler and cheaper process. In particular, it is necessary to finalise a power purchase contract in accordance with international standards to attract foreign investors in this very important industry, Jacobs held.
Commenting on the important role of the private sector in completing green growth and sustainable growth targets, Dau Anh Tuan, Deputy General Secretary and head of the Legal Department of the Vietnam Chamber of Commerce and Industry (VCCI), said that currently, businesses' understanding of environment regulations remains modest.
Only 31.8 percent of the domestic private enterprises said they understood environmental regulations well. Meanwhile, up to 91 percent of enterprises believed that environmental protection is the responsibility of local authorities. Therefore, the VCCI proposed strengthening the participation of the business community in building and perfecting the legal system and implementing laws and regulations on environment, green economy and sustainable development, said Tuan.
He also underlined the need to design policies to encourage businesses to invest in high and clean technologies.
Tran Nhu Tung, Vice President of the Vietnam Textile and Apparel Association, said that the Government should offer 2 percent cut in corporate income tax for companies meeting green requirement and interest support to green transition projects.
Stressing the need to evaluate the implementation of green growth and sustainable at the local level, Tuan said that the VCCI has built and announced a Performance Grading Index (PGI) in 2023 to promote the green transition process of localities.
(VNA)