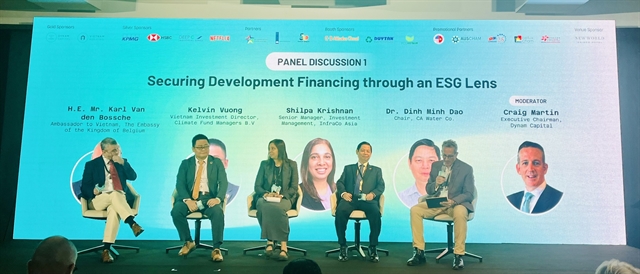 Investors are under more pressure than ever to develop portfolios that are fit to tackle market volatility and embody their ethical values while meeting Việt Nam's net zero commitment, speakers said at a conference on Wednesday.
Speaking at the Việt Nam ESG Investor Conference 2023, Sarah Hooper, consul general of Australia in HCM City, said it was of utmost importance for investors to build a resilient Environmental, Social, and Governance (ESG)-centered financial ecosystem.
"The Australian and Vietnamese governments are committed to growing two way investment – a distinct departure from the approach of prior years when we sought to grow investment at home," she said.
"We are actively working to shape Australia and Việt Nam's shared region – the Indo-Pacific region – as one that is open, stable and prosperous.
"Now we are partnering for investment in Việt Nam recognising the long term benefits that will deliver for our region," she added.
"Corporations have found that aligning with ESG standards is not just about growth but survival," according to the event's organisers.
ESG, a set of standards measuring factors related to sustainable development and corporate impact on society, has been a critical term for businesses and investors in recent years. While ESG has been a concept for some time, the COVID-19 pandemic underscored its significance.
In response, investors are recalibrating their strategies, moving beyond traditional financial metrics to embrace investment trends informed by ESG evaluations, experts noted.
According to a 2022 report by Bloomberg Intelligence, global ESG assets could reach US$50 trillion by 2025. The trend toward investing in companies adhering to ESG standards is clear.
"These investments can mitigate adverse environmental and societal impacts while generating long-term value for investors," the report noted.
In this context, the conference aims to foster sustainable investment opportunities in Việt Nam, contributing to a resilient ESG-centered financial ecosystem.
The event aims to connect investors with sustainable investment opportunities and help them navigate the country's financial landscape and regulations.
It also aims to support Vietnamese firms in identifying ESG-compliant international investment opportunities and sustainable financial prospects.
It seeks to help both investors and businesses identify and assess specific risks, opportunities, and trends in Việt Nam through an ESG lens.
Craig Martin, executive chairman of Dynam Capital, said: "ESG and stewardship are increasingly important for investors and companies globally, and nowhere is that more relevant than in Việt Nam as it reaches a key inflection point in its industrialisation and urbanisation growth."
Srini Nagarajan, managing director and head of Asia at British International Investment, said the company wanted to support climate finance projects in priority markets such as Việt Nam to "create sustainable, productive and inclusive economic growth."
Experts said in an era of growing environmental and social concerns, ESG standards have emerged as a game-changer for firms seeking to improve their customer engagement and financial access.
ESG is also the key to gaining competitive advantages as it enhances firms' internal governance and promotes their public image.
ESG commitments
According to a 2022 PwC report, more than 80 per cent of Vietnamese businesses have made ESG commitments or plan to do so in the near future. This shift is basically driven by the demands of consumers, employees and investors.
Over 60 per cent of companies that have yet to embrace ESG cited a lack of knowledge as the key barrier to ESG commitments, 48 per cent cited financial capability, 46 per cent cited company size, and 28 per cent cited a lack of transparency in ESG data.
As ESG is not free, many companies willing to embrace ESG are finding themselves stuck in a vicious circle – they need funds to adopt ESG, yet without ESG in place, they remain in a weak position to access funds and gain sales.
Experts also noted ESG rules in Việt Nam lack coherence, and the allocation of responsibilities among stakeholders is poorly regulated.
This legal incompleteness could discourage foreign investments in the green sector and incur additional costs related to environmental assessment.
They have also called for more regulations for Việt Nam's carbon-neutral commitments in COP26 and more measures to raise the awareness of ESG among companies.
Co-hosted by Raise Partners and Vietcetera, the two-day event attracted more than 400 leaders of multinational corporations from various industries.
(VNS)