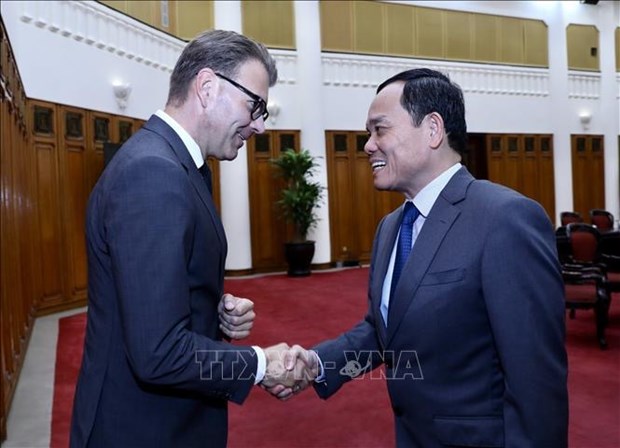 Deputy Prime Minister Tran Luu Quang on June 20 received the European Parliament Delegation for Relations with the Countries of Southeast Asia and ASEAN led by its Chairman Daniel Caspary who are paying a visit to Vietnam.
At the meeting, Quang expressed his delight at the profound and substantive developments in the relationship between Vietnam and the EU over the past time. Currently, the EU is one of Vietnam's leading trade-investment partners. Meanwhile, Vietnam is the EU's largest trading partner in ASEAN.
Quang said that he hopes the two sides will continue to cooperate closely, focusing on areas where the EU has advantages and those that follow common trends to serve green growth, sustainable development and climate change response.
Stronger bilateral cooperation will contribute to promoting the Vietnam-EU comprehensive partnership, bring practical benefits to people and businesses of both sides as well as actively contribute to maintaining peace, stability, development, and prosperity in the region and the world.
Quang called on the EU official and the delegation to support Vietnam in having the European Commission (EC)'s "yellow card" warning against its seafood exports lifted.
For his part, Caspary and the delegation appreciated the role and position of Vietnam in the region as well as in the world.
He said Vietnam is also considered one of the good examples of achieving outstanding results in poverty reduction, foreign direct investment attraction, infrastructure development, and its commitment to net-zero emissions by 2050.
Regarding the removal of the yellow card, Caspary noted that it is an important issue for Vietnam and expressed his hope that the issue will soon have results in line with the expectations of the two sides.
At the meeting, the two sides also discussed regional and international issues of common concern, including the East Sea issue and the Russia-Ukraine conflict./.
(VNA)