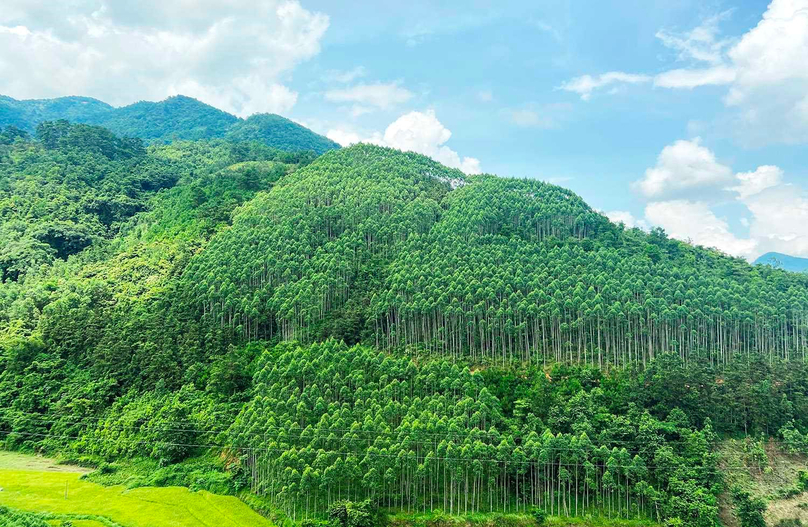 Vietnam's forests net-absorb 40 million tons of carbon yearly, or $200 million in carbon credits at $5 per ton, Deputy Agriculture and Rural Development Minister Nguyen Quoc Tri said Monday.
Tri elaborated at a press conference that the nation's forests absorb 70 million tons and exhaust 30 million tons of carbon every year. This is a major income source for foresters, he added.
The forestry sector has already signed with the World Bank its first carbon credit sale of 10.3 million tons for $51.5 million under the Emission Reductions Payment Agreements (ERPA). The agreement runs until 2025.
The Department of Forestry is helping the Ministry of Agriculture and Rural Development legalize the carbon credit sale program in more localities. Currently, the program covers the north-central region.
The sales revenue will go to farmers, forest owners and planting units after the World Bank completes the payment procedures, said Vu Tan Phuong, head of the ministry's Vietnam Forest Certification Office.
Nguyen Thu Trang, chairwoman of the T.A.F Group, said her business was investing and buying carbon credit at $7 per ton, a very good price. She anticipated the carbon credit market in Vietnam to attract many investors soon, thanks to suitable prices.
Meanwhile, the Ministry of Natural Resources and Environment is drafting a carbon credit market project that will trial a carbon exchange from 2025 onwards, aiming to begin official operations in 2028.
The agriculture ministry estimates that Vietnam has a 42% forest coverage at 14.7 million hectares, which includes 10 million hectares of natural forest.
In the first five months of this year, the country planted 97,900 hectares of new forests, up 2.5% year-on-year, according to the General Statistics Office. The harvest of wood rose 3.3% during the same period to reach 6.58 million cubic meters.
Tri Duc