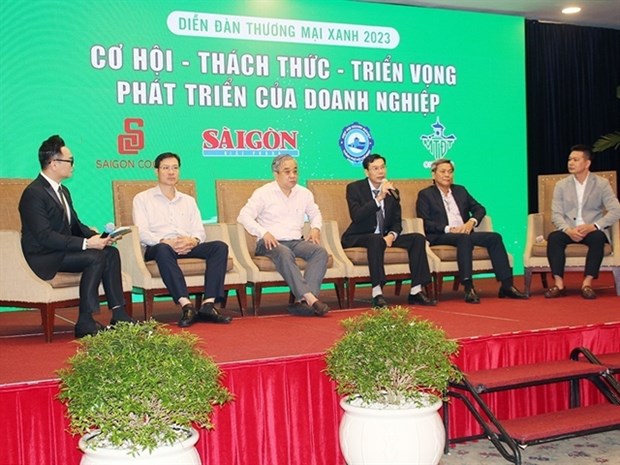 The green economy and sustainable development are inescapable global trends, and businesses need to embrace them to meet the increasing demands in the domestic market and mounting pressure from foreign markets, the "Green Trade Forum" heard in Ho Chi Minh City on June 14.
Vice Chairman of the city People's Committee Vo Van Hoan acknowledged that Vietnam has signed numerous free trade agreements, including new-generation pacts, which present significant opportunities for local firms to expand their exports.
However, these FTAs also come with stringent environmental and sustainable development clauses, he pointed out.
"Green growth and sustainable economic development have become inevitable trends worldwide. Investors coming to HCM City always inquire about the availability of renewable energy and green materials. Investors already in the city also want to become greener. Since a failure to meet green criteria can hinder their products from being exported to European markets and other developed countries. Therefore, green transformation has become an urgent issue."
Consumers in both local and international markets have become more environmentally conscious, he said.
To cater to them, the creation of an eco-system comprising green materials, green finance, green energy, and supportive policy systems and legal frameworks is necessary, he told the forum held by Sai Gon Giai Phong newspaper, Saigon Co.op and the HCM City Union of Business Associations.
Forums like the Green Trade Forum play a crucial role in raising awareness among consumers, producers, and society, ultimately leading to the formulation of policies conducive to a green economy.
Vietnam is committed to achieving net-zero emissions by 2050, necessitating increased awareness and contributions from the business community.
Prof. Dr. Nguyen Hong Quan, Director of the Institute for Circular Economy Development at the Vietnam National University in HCM City, cited a survey by McKinsey revealing that 63% of consumers consider brand sustainability when making purchase decisions.
Embracing environmental, social and governance (ESG) standards would provide companies with significant development opportunities, he added.
Pham Van Truong, Deputy Editor-in-Chief of Sai Gon Giai Phong newspaper, said developing a green economy and circular economy is crucial not only for businesses but also for the entire country.
But the task is challenging due to limited resources possessed by Vietnamese enterprises, 99% of which are small and medium-sized businesses, he said.
Nguyen Ngoc Hoa, Chairman of the HCM City Union of Business Associations, commended HCM City's long-standing awareness of the importance of green growth and its initiatives to promote it like the Green Enterprises Awards, which honour businesses compliant with waste treatment regulations and produce environmentally friendly products.
Under the programme, the organisers, HUBA and Sài Gòn Giải Phóng newspaper, will also provide firms with information about green technical barriers to trade in the domestic and export markets, and help them find the means to achieve green development.
Tran Lam Hong, deputy general director of Saigon Co.op, said the retailer gives priority to buying products from firms that are environmentally conscious.
The country's leading consumer goods retailer and Sai Gon Giai Phong newspaper have organised the annual Green Consumption Campaign for 14 years to promote environment-friendly products.
Saigon Co.op's distribution systems also hold the annual Green Consumption Month in June with promotions on environment-friendly products to encourage the use of green products and those made by companies that do well in environmental protection, thereby creating environment-friendly consumption habits./.
(VNA)